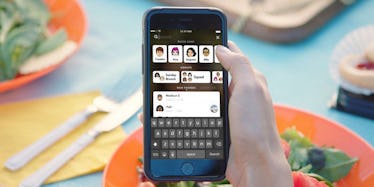 Snapchat's New Search Feature Makes Stalking Your Ex's Latest Hookup Way Easier
Snapchat
Not too long ago, we told you all about the bells and whistles Instagram added to their Stories feature.
If you thought those aspects made it a hell of a lot easier to stalk your ex over winter break, you'll be glad to know Instagram isn't the only platform rolling out some awesome new features.
Snapchat is also getting a major makeover.
That's right: Snapchat is launching a new search feature in the latest update. It will add a search bar, new navigation and a global story that will showcase snaps across the world.
The software update will give the app a much sleeker appearance than before. It will add a search bar at the top of your chat, camera and stories screens.
Snapchat's new search feature lets you easily find friends, groups and new contacts by typing their names into the search bar.
Simply tapping on a friend's name will give you the option to pull up a one-on-one chat, see his or her latest stories and view his or her mini profile.
The search bar also provides shortcuts to other features, such as "Quick Add." It suggests people you should follow, based on the numbers saved in your contacts and your mutual friends.
Plus, the new search bar also lets you look for publishers.
In addition to the new search bar, Snapchat is revamping the app's navigation.
Instead of swiping down on the camera screen to see your profile, the update allows you to access your profile by tapping on the Bitmoji icon located in the upper left corner of every section.
Last but not least, you'll also find a new global story dubbed "Our Story." It will feature live Snapchat stories from users across the planet.
If you're wondering when you can start taking advantage of these new features, Snapchat just started rolling out the update to select Android users today. It won't be long until they launch a new software update for iOS users too.
Citations: This is not a drill: Snapchat is about to get a major redesign (Mashable)