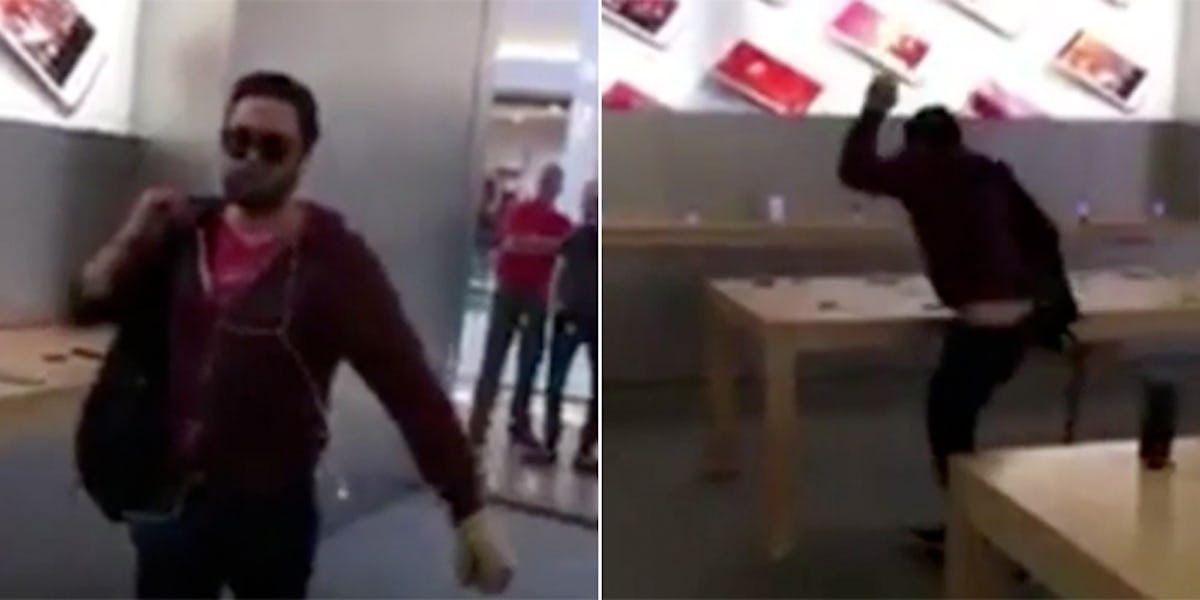 Try Not To Cry Watching Guy Smash All The iPhone 7s That Could've Been Yours
Mail Online
He walked through the store and immediately started wreaking havoc on every iPhone in sight.
Although the man has remained nameless, the story of how he tore up an Apple store in France is going VIRAL.
And, believe us, this is no exaggeration. The video is exactly how the story sounds.
In the video, the man can be seen using an instrument to smash the screens of a number of perfectly displayed iPhones (RIP). Even as he received apparent shouts from store employees to cease and desist, the man continued to go ham.
As noted by BBC.com – who shared a longer video of the incident – the man says in the video that he's angry because the Apple store refused to give him a refund when he presented a dispute.
His declaration of frustration appears to come at the point when he shouts "Mesdames et messieurs" – ladies and gentleman, basically – in order to call everyone in the store to attention.
He then points to the camera before giving a short monologue.
The man explains his motives at around the 38-second mark below.
As he tries to casually walk out of the Apple store after basically destroying it, he gets confronted – of course – by security.
His run-in with mall authorities proves either one of two things: Either the white privilege in France is on a milli, or the country has the worst security guards in the world. This man tried almost everything to get punched in the mouth, but somehow didn't.
First, the guy walks right past a guard with total disrespect. Then, when he actually stops to listen, he squares up with the man.
When the first guard gets the help of two other guards in order to keep the man calm, the angry customer actually runs away. This prompts a brief wild goose chase.
When the guards finally catch the man, they physically restrain him and shout "Stop!" a couple of times. I guess the French use English when they're really mad?
The last straw appears to be when the customer touches the guard's neck. As you can see below, they took him out back. It was a wrap for him after that.
Oh, and one last thing: The store was in Dijon. So, we now know their security guards are as soft as their mustard.