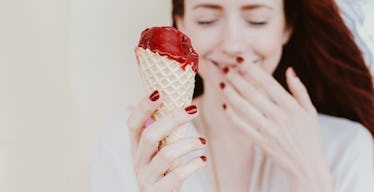 Girls Are Showing Off Their Manicures With The Funniest Props And It's Working
Never underestimate the woman who's willing to do anything for the 'gram. No angle, filter, or prop is too much for someone in search of likes. If you're a beauty guru in need of some inspo for a #ManiMonday post, have a look at the latest trend sweeping across Twitter. Women are posing with props to match their manicures, and it's a pretty humorous way to take beauty coverage in a different direction.
Twitter user @alinamarie____, who is named on the social media site as "queen of extra," kickstarted the mani trend that others are trying to emulate. Rather than simply post a photo of her new mani, she gave a little something extra. Alina's pink hue reminded her of some food, so she found herself a slice of ham and pink slushie that perfectly capture the millennial pink vibe she had going with her mani.
It's funny, it's a bit random... and it's actually pretty spot on when you stop to take a look. So, like any other good beauty trend out there, it caught on. The queen of extra could quite possibly be dethroned now that others are posting copycat pics.
Here's some Pepsi blue, obviously a go-to nail color for the warmer months.
It's crucial to match your manicure to your coffee sweetener's packaging.
I myself always aim for the purple Lysol bottle hue when I get a manicure.
Sausage, anyone? You'll need some meat for brunch to go with your Prosecco doughnut.
Here's an eager one taking the trend a little too far.
This is how you get ready for a DIY project.
If my "Bikini So Teeny" blue polish wasn't completely chipped, I'd definitely find something suitable to pose with, but, for now, it looks like I'll just have to watch the trend unfold on social media.
Happy #ManiMonday everyone! Go find a snack or random object that matches your nails.