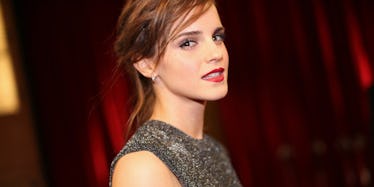 Your Jaw Will F*cking Drop When You See What Emma Watson Did To Her Hair
Getty Images
OMG, you guys. Emma Watson just made the most insane hair change you could possibly imagine.
She went ombré. OMBRÉ. A trend that's been basically dead for, like, two years.
Two years is practically an eternity for Hollywood starlets; though, to be fair, Watson recently revealed she'd be taking a break from that celeb life. She also looks badass with her new look as you can tell from the paparazzi pic below.
According to Daily Mail, the 25-year-old actor was on her way to interview OG-feminist Gloria Steinem at London's Emanuel Hall. As a Global Goodwill Ambassador for UN Women, it should come as no surprise that Watson looks powerful in an ombré bob and edgy pantsuit. You can tell she gives absolutely zero f*cks what anyone thinks.
I'm also sensing a Rachel McAdams vibe from that time she played an angsty cop on Season 2 of "True Detective." Anyone else seeing it?
Whatever stale celebrity hair trends Emma Watson chooses to take on -- whether that be getting extensions when she gets bored with the bob in two weeks or playing with pastels -- she's sure to look hot as hell doing it.
That'll be another ten points for Gryffindor, per usual.
Citations: Emma Watson debuts gorgeous ombré colouring in her tousled bob ahead of interview with feminist Gloria Steinem (Daily Mail)