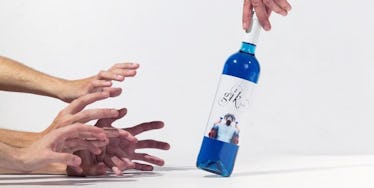 Say Goodbye To Rosé And Hello To Blue Wine, Your New Insta-Worthy Drink This Fall
Gïk
If you spent this summer seeking out the perfect glass of rosé while sporting an off-the-shoulder top, then trust me, you're going to want in on the next drink trend coming your way. You already know that fall is PSL season, but now there's a new, and possibly even better way to celebrate the season. Get ready to flood your feed (and get all the likes) with blue wine, the new Insta-worthy drink of fall. But what is blue wine, you may ask?
According to Mental Floss, the Spanish wine, called Gïk, is made from a blend of red and white grapes. The co-founder of Gïk, Aritz López, said the shade represents "movement, innovation, fluidity, change, and infinity."
You'll be happy to know the wine achieves its bright blue color through all-natural ingredients. In fact, pigment from the Isatis tinctoria plant, which is found in grape skin and indigo, responsible for the wine's standout coloring. If you're wondering what it might taste like, López compares the wine to a white zinfandel or prosecco. It boasts an 11.5 ABV, and you can purchase a pack of three bottles for $48.
The blue wine is produced in the Basque region of Spain, but they had a slight hiccup because Spanish law only allows red or white wine to be sold in local markets -- a slight issue for this two-for-one grape bottle of vino. Lucky for wine lovers everywhere, they were able to keep selling the blue wine after dropping the "wine" label and rebranding it as "99 percent wine and 1 percent grape must," and paying a fine of €3000 (about $3,600 dollars).
Now, Gïk is ready to bring the newest wine trend to the United States, and the even better news is that US rules are less strict, allowing the beverage of fall to be sold under the "wine" label. So, no, you will not be forced to wander the aisles looking for the "Other Alcoholic Beverages" section of your store. To snag a bottle and start figuring out which filter will best complement this sky-colored vino, you can look for the bottles to debut in Miami, Boston, and Texas, and you can even pre-order online now.
Keep an eye out for the next US locations to carry the brand, which include New York, New Jersey, Michigan, Washington, California, and Nevada.
As sad as it is to bid adieu to rosé, it looks like a case of the blues is about to get a whole lot tastier.