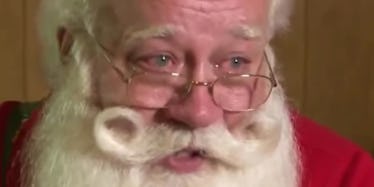 The World Is Crying Over Santa's Sad Story Of 5-Year-Old Who Died In His Arms
YouTube
I'm going to be honest with you: This isn't going to be easy to read.
Sam Venable, a columnist for the Knoxville News-Sentinel, wrote one of the most heartbreaking stories of the holiday season.
He wrote about seeing a terminally ill 5-year-old boy, who was visited by a professional Santa Claus named Eric Schmitt-Matzen, during his last days.
The boy died in Santa's arms.
Schmitt-Matzen, who is really a mechanical engineer (although he wears Santa suspenders year-round), has a friend who is a nurse at the hospital and told him the sick boy wanted to see Santa Claus.
Schmitt-Matzen was more than happy to try to do what he could to help.
He told her he'd be right over, he just needed to put on his outfit, but she told him there wasn't time.
Fifteen minutes later, he was at the hospital. He met the boy's family members and asked them to leave the room if they thought they might cry because he'd break down as well.
He went into the hospital room alone — the family watching from a window, crying.
Schmitt-Matzen was asking the boy what he wanted for Christmas when the boy passed away in his arms.
The family, realizing what happened, came into the room. Schmitt-Matzen says he cried all the way home.
"I was crying so hard," he said. "I had a tough time seeing good enough to drive."
He said that he was so upset by the experience that he thought he "might crack up and never be able to play the part again."
Schmitt-Matzen described his short interaction with the boy to Venable:
When I walked in, he was laying there, so weak it looked like he was ready to fall asleep. I sat down on his bed and asked, 'Say, what's this I hear about you're gonna miss Christmas? There's no way you can miss Christmas! Why, you're my Number One elf!' He looked up and said, 'I am?' I said, 'Sure!' I gave him the present. He was so weak he could barely open the wrapping paper. When he saw what was inside, he flashed a big smile and laid his head back down. 'They say I'm gonna die,' he told me. 'How can I tell when I get to where I'm going?' I said, 'Can you do me a big favor?' He said, 'Sure!' When you get there, you tell 'em you're Santa's Number One elf, and I know they'll let you in. He said, 'They will?' I said, 'Sure!' He kinda sat up and gave me a big hug and asked one more question: 'Santa, can you help me?' I wrapped my arms around him. Before I could say anything, he died right there. I let him stay, just kept hugging and holding onto him. Everyone outside the room realized what happened. His mother ran in. She was screaming, 'No, no, not yet!' I handed her son back and left as fast as I could. I spent four years in the Army with the 75th Rangers, and I've seen my share of (stuff). But I ran by the nurses' station bawling my head off. I know nurses and doctors see things like that every day, but I don't know how they can take it.
After the heartbreaking day, Venable says Schmitt-Matzen thought he might not be able to play the role of Santa again.
But, the experience has taught him how powerful the idea of Santa Claus is for children — and the joy it can bring them.
He worked one more event and saw how happy the children surrounding him were.
Venable ends his column as I will end mine: with Schmitt-Matzen's reason for continuing to be a Santa Claus.
He said he will do it "for them and for me."
Citations: Knoxville News-Sentinel