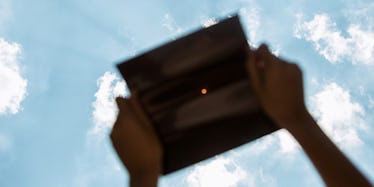 How To Safely Photograph The Solar Eclipse So You Have An Epic Instagram Post
Sean Locke
Today is about to get pretty dang epic, guys. The solar eclipse is almost upon us, and we're all concerned about one thing: getting the best photo of the sun while the moon floats in front of it. Well, at least that's what I'm concerned about -- don't judge me. If you're on the same page and wondering how to photograph the solar eclipse so you walk away with a stellar photo for your Instagram and your eyesight, I have your back.
In order to take the coolest picture of the solar eclipse on Monday, Aug. 21, you'll have to follow a few easy steps. But first, I have a question for you: Are you planning on taking a picture with your smartphone? If the answer is yes (which it probably is unless you have a professional camera on hand), there are a few things you'll need to do.
One of the first (and most important) things you'll need to do is put on a pair of eclipse sunglasses so you don't ruin your eyesight. I mean, c'mon, no Instagram post is worth ruining your vision for -- so make sure you take this step seriously. In order to find a pair of eclipse glasses, you can check out these options.
Once you have your sunglasses on and ready, you'll probably want to set up a selfie stick or a tripod. It's been reported by CNet that these camera contraptions will allow you to make sure your phone is still during the epic event. Plus, it'll let you to watch the eclipse IRL instead of through your phone camera.
Now, it's time to get a little more technical. If you're a smartphone camera guru, these steps will be simple -- but if you're not, listen up. In order to take the clearest photo of the eclipse, you'll need to lock your focus on the sun once your camera is in place. Then, you can adjust the exposure so the brightness of the sun doesn't affect your picture.
Now that you're ready to take the best Instagram photo of your freakin' life, put your camera on a time lapse to ensure you film the eclipse in its entirety. Or, you can put your camera on timer so you can take pictures of the eclipse without missing a moment.
Keep your eyes safe today and take some epic pictures of the eclipse! I'll be waiting to see your Instagram posts tonight, so make sure they're cool AF.