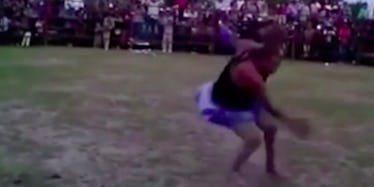 This Rodeo Clown Who Fell Face-First Into Poop Is Having A Worse Day Than You
DailyMail.com
It's early on in the week, your boss is already on your case and there's no food in your fridge when you get home.
You're having an atrocious day.
But at least you don't have poo on your face.
If you do, then bravo. You're officially having the worst day ever.
But for those of you whose face is fecal matter-free, then revel in this rodeo-goer's misfortune.
The random footage shows a performer doing backflips in a field in front of a huge crowd.
They're wearing a tutu for some reason, but let's not read into that.
It's looking good. The flips are impressive.
Here they are mid-flip:
Uh-oh — somebody's about to lose their footing:
No ... NO, THE POOP IS COMING. POW, RIGHT IN THE KISSER.
Then comes that life-changing moment you realize half your face is covered in a huge, mammal-sized deuce. In front of a crowd. On camera. Uploaded to the world wide web. Never to be forgotten.
RIP, her dignity. It belongs to the poop now.