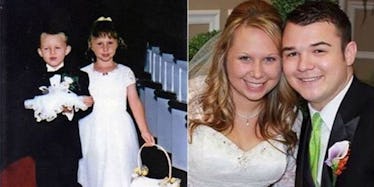 Ring Bearer And Flower Girl Get Married 17 Years Later In The Same Church
You are physically not going to be able to get enough of this story.
When Adrian Franklin and Brooke Gibson Franklin were 5 years old, they were tasked with the sacred duties of getting a ring down the aisle and throwing flowers everywhere, respectively.
Clearly, participating in this wedding planted some kind of romantic seed that germinated over time and culminated in the pair's own sacred union.
This is adorable AF.
TRUE LOVE: 17 years ago, they were the flower girl and ring bearer at their families' friends' wedding. Last month, they walked down the aisle at the same church for their own wedding: http://abc7.ws/1KYOMjm Posted by ABC 7 Chicago on Thursday, October 1, 2015
Brooke told WBTV she had her eyes on Adrian for a while. She said,
We went to school together and I would always try to play with him on the playground and he wouldn't have anything to do with it.
Adrian confirmed to reporters he didn't hop on board the romance train with Brooke until middle school.
He eventually did come around, though there was some cute confusion at exactly what his intentions were when he asked Brooke to be his girlfriend.
He told reporters,
I wrote 'Will you be my girlfriend' and she guessed it, but didn't answer me. I said 'Well Brooke, are you going to say anything?' and she said 'Well you didn't write a question mark.'
When Adrian proposed, he made sure to involve this miscommunication, having his friends ride by on a boat with a sign reading, "Will you marry me Brooke" before handing her a question mark.
The couple decided to hold the wedding at the same church, South Gastonia Church of God in North Carolina, where they walked down the aisle 17 years earlier.
They also make sure the bride from the original wedding was in attendance to see this whole thing come full circle.
Citations: Flower girl and ring bearer marry in the same church where they walked down the aisle together 17 years ago (Daily Mail)