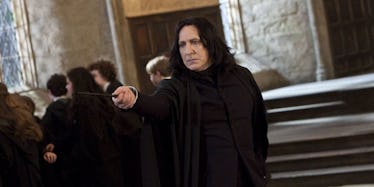 Someone Just Discovered The Real Professor Snape From 'Harry Potter'
Warner Bros. Pictures
There once was a group of college students who had a real-life Professor Snape.
Henry Lloyd Snape was his name, and while he may not have taught potions like the "Harry Potter" character, his expertise was in an arguably similar field: chemistry.
In 1888, the professor was made the chair of chemistry at Wales' Aberystwyth University, according to Dr. Beth Rodgers, a lecturer in 19th-century literature at the institution.
He reportedly died in 1933 and was described as an "energetic, keen and devoted" scientist in an obituary published in the Journal of the Chemical Society, according to The Telegraph.
In The Irish Times, Rodgers wrote the real Professor Snape appears to have shared the "darkly charismatic" demeanor of the character Severus Snape, who was played by Alan Rickman in the "Harry Potter" films.
Rodgers also said a former student of Snape remembered how "every limb of his body was summoned to assist him in the act of lecturing," and photographs of the professor apparently portray him as "handsome" and "undeniably dashing."
What solidifies Henry Lloyd Snape's eerie connection to "Harry Potter," however, is the title of one of the professor's lectures.
Rodgers reportedly discovered a reference to his public lecture that was actually named "The Philosopher of Stone," which immediately brings to mind the title of the first "Harry Potter" book, "Harry Potter and the Philosopher's Stone" (released in the US as "Harry Potter and the Sorcerer's Stone").
Rodgers explained her discovery more, writing,
The strange continuities run deeper. Eccentricity was no doubt a feature of many universities in the 19th century, but the particular oddities of Aberystwyth's Old College are even more striking when we consider parallels with Hogwarts. In 'The College by the Sea,' a book published in 1928 to celebrate the university's first decades, former staff and students recall characters and events that could come straight from fiction. One undergraduate recounts the capture of a young rook, whose 'antics and baths afforded much amusement to the staff'. Hedwig, anyone?
The character Severus Snape was actually reportedly based off an old chemistry teacher of JK Rowling who died just a few years ago.
The author said to have gotten the name "Snape" from a village in England.
Rodgers told The Telegraph the story of "Harry Potter" is "present in all of our lives" and likely the reason many of her students are pursuing degrees in English.
Citations: Real life Harry Potter character Professor Snape taught chemistry at Welsh college in the late 19th century (The Telegraph)