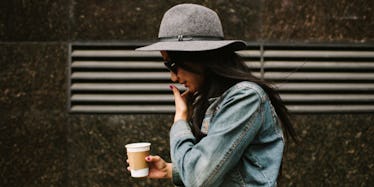 This New Pumpkin Spice Latte Chat On FB Is Every Fall Lover's Dream Come True
Stocksy
Good news, lonely people who also enjoy Pumpkin Spice Lattes! You can now chat with your favorite fall beverage on Facebook.
Starbucks has just launched a new chat bot for Facebook Messenger called "The Real PSL," and let me tell you, it is not good at stopping me from crying because I am so, so lonely.
Can you believe it's been 13 years since PSL came into our lives? She's officially a teenager now, so Starbucks has finally let her have both a Twitter and a Facebook. She really shouldn't be chatting with all those strangers though.
As to be expected, the chat bot is lacking in a lot of areas.
She talks like a cool Tumblr teen, but she also repeats questions, and should you ignore them (like I did with the mummy costume) she gives you an option to say "Yes" or "Yes."
The Real PSL also asks you which emoji she should text her cat. (Her cat is a painted pumpkin, and also, cats don't have cell phones.)
And I'm pretty sure she already sent me a nude.
She said she enjoys a bubble bath and then sent me this highly inappropriate photo:
All in all, The Real PSL is kind of a bitch.
I was trying to have a very serious conversation with PSL, and she just went off the rails to talk about her cool friend Taylor Swift.
Even when I was more open about what was bothering me, I just received more outlandish selfies and apathy.
I even tried to change up my tactic and act like a desperate guy you swiped right on Tinder in your moment of need.
You can chat with The Real PSL here, but messing with a bad chat bot is only fun for... Oh, my God, I just spent four hours on this post. I have been chatting with a robot latte for four hours.
Citations: Profess Your Love for the Pumpkin Spice Latte Directly By Chatting With the Starbucks Drink on Facebook (Time)