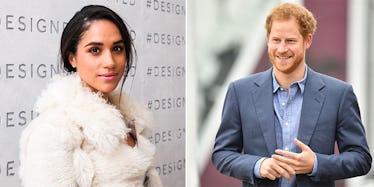 Everything You Need To Know About Prince Harry's New American Girlfriend
REX/Shutterstock
Every girl wants to find a man who treats her like an absolute princess.
But you know what's even better than finding a dreamy dude who makes you feel like royalty? Dating someone who could actually make you part of the royal family IRL, of course.
Yeah... If you've been eyeing the ever-so-charming Prince Harry, I have some bad news for you.
Apparently, this royal redhead is no longer up for grabs.
Remember when Meghan Markle, the 35-year-old actress who plays Rachel Zane on "Suits," started dropping hints that she might be having a thing with Prince Harry?
Well, if seeing all of Markle's subtle clues wasn't enough to satisfy your suspicions, you'll be glad to know their romance has just been confirmed.
That's right. After keeping their relationship on the DL for six months, Prince Harry made it official.
So, I guess this means we should all start looking for another single prince to lust after.
After the big news broke, Markle dished out the deets to the Toronto Sun. She said,
My cup runneth over and I'm the luckiest girl in the world.
Apparently, their secret love story started like all great romances do: Prince Harry scored Markle's number at a charity event in Toronto back in May.
He then proceeded to charm the hell out of her via text message until they made plans to finally hang out again.
The Sun reported the two went to Soho House in London with a group of friends over the summer.
Then, they had two more dates by themselves... after which they clearly fell head over heels for one another.
Shortly after returning home from a trip to London, Markle posted a picture that showed her wearing a blue, white and black bracelet.
You know... the same bracelet that's also been spotted on Prince Harry's wrist.
Funny coincidence? I think not.
The Express revealed Markle also stayed with Harry at Kensington Palace during one of her visits, where Harry allegedly introduced her to the Duke and Duchess of Cambridge.
Sounds pretty serious if you ask me.
Plus, Markle has been posting all sorts of cryptic messages on social media since she fell for the royal prince.
She posted a dill pickle pun that revealed Harry meant a great deal to her...
Then, she uploaded an image of spooning bananas right after the news of her relationship emerged.
Last but not least, Markle snapped a photo of a cup of tea and an elephant-shaped teapot.
This seems oddly coincidental because not only is tea time British AF, but Prince Harry also just so happens to be campaigning for the protection of endangered species right now.
So, yeah.
Even if the two didn't come out and confirm the dating rumors, I think we all would have eventually figured out these two lovebirds are in a relationship anyway.
Citations: Prince Harry's American sweetheart speaks for the first time since news of their long distance love emerged and says 'I'm the luckiest girl in the world' (Daily Mail)