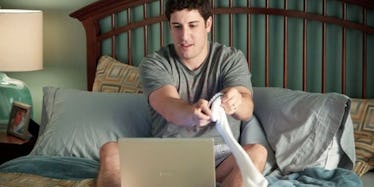 Watching Porn Before A First Date Will Make You More Outgoing, Science Says
Universal Pictures
If your last few dates have ended with you alone and eating ice cream in bed at 10 pm, here's a new tip for you to try.
Before your next first date, fire up your laptop and watch some porn: The date itself might just go a lot better.
Yes, seriously. And it's not for the reason you might suspect.
A study led by Professor Gurit Birnbaum found thinking about sex makes you more likely to disclose personal information.
As openness, confidence and honesty are all attractive to other humans, this makes you more likely to score a second date... or just score, am I right?
So, to give yourself that extra boost, watch porn before your date to ensure sex is well and truly on your brain: simple.
It's known as the slightly gross term "sexual priming."
Meanwhile, Professor Birnbaum's findings were published in a study called "Sex Unleashes Your Tongue" in Personality and Social Psychology Bulletin.
She tested 246 straight students, both men and women. She showed some a naked picture of a member of the opposite sex, and others a picture of a fish.
Students who were shown the nude pic were more willing to go out on a blind date, the study found.
Professor Birnbaum told The Times,
Disclosing personal information makes the other person like you more, thereby motivating him or her to reciprocate. Consequently, you get the impression that this person likes you, and you react by liking him or her more -- we tend to like people who like us -- and behave accordingly, for example by being nicer, flirting or complimenting. Overall, sex starts a positive cycle of getting closer to a stranger that may eventually build emotional connection between previously unacquainted people.
So really, the tip here is to be outgoing and willing to talk openly about yourself, as it's more likely to make the other person like you.
But if having some pre-date "me time" helps you with that, you know what to do.
Citations: Watch porn to get in the mood . . . for a first date (The Times)