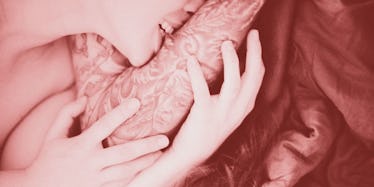 5 Things You Can Actually Apply To Your Sex Life From Watching Porn
Pornography has secretly been a source of education for me since my early preteen years. Even now in my 20s, I'm still learning from flicks past and present.
Porn isn't always believable, but there are many lessons in technical skill that can be learned if you simply put down the lotion, set aside the vibrator and pay attention. I think adult films are an awesome tool to self-educate, and I've personally learned five things from porn that changed my sex life for the better.
1. Talking dirty is an easy turn-on.
I used to suck at talking dirty and encouraging my partner to play with me in sexual ways that I desired. But after watching porn and studying the way adult actresses play into the moment with their salacious catcalls, I became a pro.
I noticed that the sexual experience was not only lengthened when a buxom babe would ask her partner to go deeper or harder in a sultry voice, but I also noticed how much more intensely he performed when encouraged by her words. Phrases that only ever sounded right in my head were being purred on camera without shame, and in watching this I was turned on.
Could I be transformed into an unadulterated sex kitten with the ability to encourage erections with the simple whisper of erotic nothings into my partner's ear? You're damn right. After spending two hours browsing through flicks featuring Nyomi Banxxx (I love how she's so confident in telling men what she wants), I mustered up enough courage to try this sexy talk for myself. Let's just say that it was a hit (literally).
Thanks to watching porn, I gained the confidence I needed to talk "sexy" without shame. It's the easiest way to request how I want my sex and when I want it.
2. Riding on top requires a good stroke.
I will never forget the day I was thrust into being on top for the first time. I was fresh out of the virginity gate and was having sex with a partner that wasn't my first. I was nervous, and he made my anxiety spike when we grabbed my hips and placed me on top of him. "I want you to ride me," he said.  What was I supposed to do? I knew this position was called "cowgirl," but I had no idea how to perform in this position.
I thought that telling him I recently lost my virginity would grant me a get-out-of-cowgirl card, but he encouraged me to try anyway. It was an EPIC FAIL. But after that day, I made it my mission to learn as much as I could about how to ride properly. I hate failing at anything in life. So I googled "best d*ck riders," came across adult actress Roxy Reynolds and watched at least 10 of her videos to perfect my technique.
She was a beast, and her partners had no issue with letting her know she was the best. Her hips moved as if they were separate from the rest of her body, and her vagina seemed to grip penises on command. It was as if she was literally stroking her partner's member as she gyrated on top.
Ah, that's what I was doing wrong. My stroke game was off. I was supposed to move my hips in a way that was stroking my partner instead of sitting on top and grinding. After studying her technique for a few days, I put what I learned into use. It took consistent practice and a few years to perfect, but I was a lot better off after watching a pro do it correctly than the first time I attempted to ride. Roxy, you're the real MVP of erotic equestrian.
3. Masturbation is a turn-on for me and for him too.
I had my first experience with masturbation when I was around 9 years old. I would stay up late and secretly watch late-night softcore porn on Cinemax that left my vulva throbbing for a release.
The experience was short-lived, however, because I always felt extremely guilty afterward. My religious upbringing made me believe that God himself would come down and cast me into an eternal lake of fire for pleasuring myself. But then I grew up and realized that God isn't policing my body or judging me in those moments at all.
I learned that masturbation is healthy, yet I still held on to a sense of embarrassment when it came to masturbating in front of my partner. It was something I knew I needed to overcome because playing with myself always helps me get into the mood. So I did what I've done so many times, and turned to porn for the answers.
Who's one of the best onscreen female masturbators I know? Misty Stone.  I looked her up and watched several videos featuring solo masturbation scenes and some that included male onlookers.  Watching Misty play with herself in front of her partners and hearing how they reacted as her vulva came alive made me realize that not only is self-pleasure beneficial for the female partner, but it also serves as a visual stimulant for the man watching.
Seeing how aroused he was getting from watching her tickle her love button excited me and gave me the validation I needed to feel comfortable with turning myself on with a casual observer in the room. Thanks, Misty Stone. You turned me out and turned me on to voyeurism.
4. BJs are better when they're wetter.
I absolutely HATED going down south to perform fellatio. The idea of it made me want to vomit. That was until I met a man that showed me the beauty in performing BJs, which he described as "kissing the essence of who a man is." How could I deny rocking the mic after he described the act of fellatio so poetically?
After his sex-positive lecture on BJs, he willingly became my practice partner. "Make it nasty," he said. Apparently it looks and feels better when a woman makes a mess, but how does one do this without it being awkward? I needed answers. So I did what I always do. I hit the tube sites, and the Goddess of BJs appeared: the one and only Sara Jay.
Video after video, I watched her effortlessly use her mouth to give her partners happy endings, and in many of the scenes, she definitely made it "nasty," as my partner suggested.  Ah, now I see how it's supposed to be done. After watching a few videos and practicing what I studied, I began to perfect a technique that my partner fell in love with. And I fell in love with going down in the process.
5. You can take it off of the bed.
Leave it to Showtime to turn me on to crazy sex positions and the many places where they could be performed. When I was in the 8th grade, I remember watching a program that was softcore porn, yet educational for couples. The topics were always bizarre and out of the ordinary from what I perceived to be "normal sex" at that time.
On one particular episode, the couple decided to have sex in a toolshed and use props from inside to make sex easier and more fun. They chose a wheelbarrow and had sex inside of it. Until this day, I can't figure out how they managed to make that happen, but I remember being amazed at how much upper-body strength and core strength he had to hold both the wheelbarrow and his partner up while giving her back-to-back orgasms. It made me excited to think about having sex in different places and using simple props around the house to make sex more interesting. That one pornographic scene made such an impression on
That one pornographic scene made such an impression on me and sparked my sexual intrigue. It showed me that sex can happen anywhere two people decide for it to happen, as long as both feel safe (and you avoid getting caught). I learned how to be open and unafraid to be adventurous with my sex life, and because of that my love life remains eventful.
Pornography is often shaded by the mainstream, but it's the only form of media that's easily accessible for people to visually see how sex happens. Without pornography, it would have taken even longer for me to develop the technical skill set I have today. I can admit that I am a better lover because of what I learned from watching pornography, and I'm not ashamed to say it.