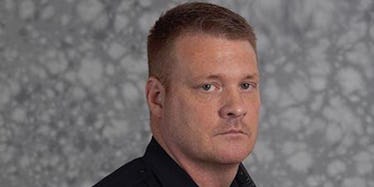 Brave Police Officer Saves 3-Year-Old Girl's Life On The Day Of His Wedding
Indiana University Police Department
A cop's desire for donuts on the morning of his wedding day ended up turning him into a local hero of sorts.
Indiana University Police officer John O'Rourke successfully got married on March 28, 2017, but not before taking the time to save a young girl's life just hours earlier that day.
O'Rourke was off-duty, patiently waiting for some sugary fuel at the Donuts to Go bakery in Sanford, Florida, when the incident took place.
As he stood in line, he noticed people beginning to swarm around a 3-year-old little girl who'd lost consciousness after having a seizure.
O'Rourke stepped up to the plate almost immediately to save the day.
First, he instructed one of the other customers in the shop to call 911, so he could inform an emergency dispatcher of the status of the situation. Then, he proceeded to perform CPR on the young girl to eventually revive her.
Her eyes opened just in time with paramedic's arrival at the donut shop.
Once the girl was back in good spirits with EMTs, employees of Donuts to Go thanked O'Rourke for his heroics and gifted him with a free box of donuts (as an early wedding present, I guess) before he departed.
"It had to be a donut shop," said O'Rourke, who can be found regularly on Indiana University–Purdue University Indianapolis's campus, in a Facebook post. "You can't make this up."
He added, "I just sat in my car, for about 20 minutes, processing everything."
It had to be a donut shop. You can't make this up.
O'Rourke then continued on with his wedding day, meeting wife-to-be Virginia down the aisle and tying the knot as planned later that evening.
Buddies from the Florida Highway Patrol, who attended the wedding, caught wind of the story and weren't the least bit surprised. They said O'Rourke had a knack for being "at the right place at the right (or wrong) time."
It seems like John's morning pastry craving paid off for that little girl.
And it'll certainly be a wedding day to remember!
Citations: Hero Cop Saves 3-Year-old Girl's Life On His Wedding Day (The Huffington Post)