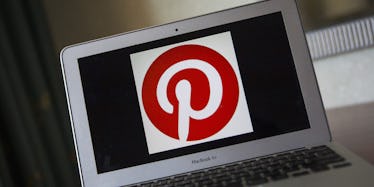 This Pinterest Update Will Make Copying Strangers' Cute Outfits Insanely Easy
REUTERS
Pinterest is all about growing envy. So now, they're about to make it so much easier to do something about that envy.
Every time you look at an outfit and are all like, "Goddammit, that's cute, I want it now, please, come on internet," all your wildest dreams will actually come true. You can finally do something about it.
Pinterest is working on a new feature that could allow you to shop for items using pictures, Business Insider reports.
Basically, this is what will happen: You can take a picture of something you really like -- an outfit, piece of furniture, whatever -- and then, Pinterest will find an item that you can buy that looks like the thing you desire.
Pinterest will use its 75-billion-image database to find something similar. So, you're pretty likely to be able to find something good.
Pinterest is still working on the feature, so it's not exactly perfect yet. For now, it just finds a product that looks similar. It has trouble finding the exact product based on its picture.
But once the feature rolls out in full, you'll be able to find anything you want.
So go on and take creeper shots of cute outfits on strangers or your friend's great vanity mirror. Soon, you'll be able to find your own version of the things you covet by just adding to your Pinterest boards.
That said, this will probably hurt your bank account. We've all had those hungover mornings when we realized we bought all the cute stuff we found on Etsy. Now, it seems like Pinterest will play a similar role in our apartments and bank accounts.
Pin carefully, friends: If not to save your bank account, then to save yourself the horror when your friend asks why you have the exact same vanity mirror that she has.
Citations: Business Insider