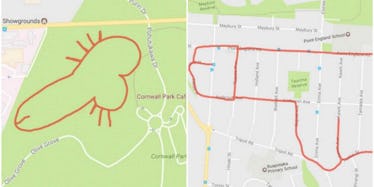 Peope Are Drawing Penises On Google Maps, But It's Actually For A Great Reason
Instagram
Guys love drawing cocks in unusual places. Don't ask me why. We just always have.
So when someone gives us a legitimate reason to flex our artistic side, it's like Christmas has come early.
This April, people everywhere are allowed to draw big, veiny throbbers on Google Maps -- and it's all for a great cause: raising awareness of testicular cancer.
The initiative is called "Go Balls Out" and was started by Testicular Cancer New Zealand. The aim is simple: Get runners to draw slabs of man-meat with their GPS.
Like this beautiful shaft:
And this rigid member:
How about this triumphant guy?
The "Lunch Run Pencil Dick":
We weep for the tiny piece with one short, sharp stream of urine emanating from the tip:
Some people have gone next level and even looked for areas named after male genitals. We enjoyed this one from Cox's Bay:
Jen got heavy with a Minecraft peen:
The idea is to get people talking about testicular cancer and encourage more men to fondle their balls and check for lumps.
According to Indy100, Graeme Woodside, of Testicular Cancer New Zealand, said in a statement,
We hope this campaign will get people talking and walking. We want young men to go balls out to show the world they've got the message, and are willing to start the conversation. Guys love some competition, and when it comes to cock and balls, they can get very competitive! We want young men to understand how to confidently check themselves and know what to watch out for.
He continued,
Asking people to #GoBallsOut raises awareness of testicular cancer in a provocative and visual way. Ultimately, however, we want people to check their balls and keep themselves safe.
Go forth and release your inner child by legitimately drawing dicks all over the place without being branded immature.
Citations: Men are drawing NSFW sketches on their GPS for a very good reason (Indy100)