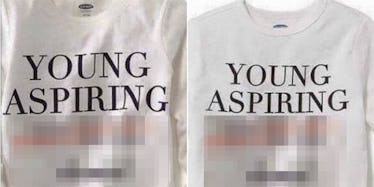 Old Navy Made A Super Offensive Girls' T-Shirt, And People Are Furious (Photo)
Old Navy
Get ready, outer space and the White House, because Old Navy is prepping the young women of today for two careers, and two careers only.
A new children's t-shirt by the Gap-owned clothing company reads, "Young Aspiring Artist," except the word "Artist" is crossed out, and either the word "Astronaut" or "President" is scrawled beneath it.
The Internet immediately launched a collective cry of, "WTF, Old Navy? Furreal?"
Unless there is a special form of artificial intelligence dedicated to designing Old Navy apparel, the human artist who designed this shirt is either wrestling some inner demons or was asked to insult his or her own profession by an employer desperately in need of art to make plain tees and Christmas pajamas more appealing to consumers.
Either way, the message Old Navy attempted to convey — perhaps the idea young girls interested in scientific or political pursuits should not be dissuaded by the status quo — was tragically lost in its delivery.
Old Navy's slip is hardly as grievous as Urban Outfitters' Kent State sweatshirt or Zara's Holocaust tee, but next time the company creates an inspiring item, it might consider doing so without throwing intense shade.
Citations: This T-Shirt for Girls Has the Internet Pissed at Old Navy (Mic)