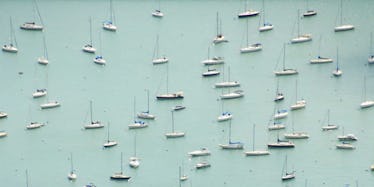 No One Can Tell If The Floating Boats In This Picture Are Photoshopped Or Not
Imgur
The photograph below was posted on Reddit, and it's now become the subject of contentious debate because of its extremely weird perspective.
I'll give you a hint. This is not a picture of a bunch of boats floating in the air through sorcery. I know — shocking. It's actually a picture of a bunch of boats tacked to a giant wall like rare butterflies (this is not a true statement).
And, it's not photoshopped either. Mostly because why would you photoshop a picture like this?
Really it's likely just that the person operating the camera has a very long lens and is super zoomed-in, which flattens the depth of field and makes things that are of varying degrees of distance to the camera seem like the same size, thereby making it appear like the water and the boats don't fall into the distance.
OR IT'S JUST SOME CRAZY BONKERS SHIT WAAAH!!!!! THESE BOATS ARE CRAZY!!! SAY WHAT THIS TOO NUTS!!!!!! TIDAL WAAAAAAAAVE!!!!!! SURFING!!!!!!
Anyway, it's fun to look at. So go ahead. Look at it. Do it. Look at it. It's fun.