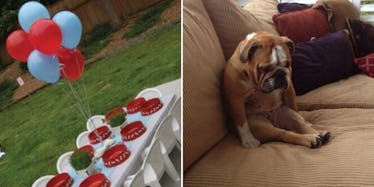 No One Showed Up To This Dog's Birthday Party And Everyone's So, So Upset
Twitter
Dogs have a strange ability to make us feel so many emotions.
When they're happy, we're happy.
But when they're even the least bit sad, it tears our freaking hearts out of our chests.
That's why it was particularly heartbreaking to see this tweet over the weekend:
@NasMaraj tweeted a picture of what appeared to be his dog, looking very, very somber, amid a series of photos from his birthday party, which no one attended.
Humans and canines alike couldn't handle it.
Whoever made this little pup so sad was going to have to answer to this dude:
There were plenty of pups who would have been more than happy to party it up with Doug.
Once @NasMaraj saw the outpouring of support from Twitter, he let everyone know he'd be throwing another party soon.
The responses came back even stronger this time, with people from far and wide ready to travel in the name of Doug's birthday celebration.
It was shaping up to be a seriously wild party.
Even people who didn't have dogs wanted to join in on the fun.
But then...
...someone called @NasMaraj's bluff.
Yep. It turns out Doug the dog is not real.
There was no party, no dog friends, no sad Doug.
Everything you've ever known is a lie.
According to BuzzFeed News, Nasiir Williams, a 17-year-old from Atlanta, tweeted out the original post because he "was really bored one day," and he'd been inspired by similar viral stories on social media.
However, he never expected this to go as far as it did.
Interestingly enough, Nasiir doesn't even have a dog.
Elite Daily asked him, if he ever got a dog one day, what would his ideal puppy birthday party look like?
He described what would basically be our version of heaven:
Oh, it would have a lot of games for the dogs, treats, competitions, a lot of dogs would be in my backyard, maybe a little pool, I would go all out.
Someone PLEASE give this man a puppy so this can be an actual thing!!
Citations: Everyone Is Really Upset About This Fake Story Of How No One Showed Up To This Dog's Birthday (BuzzFeed News)