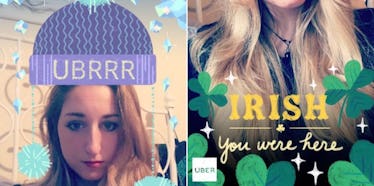 Adorable New Snapchat Filters You Can Only Use In Uber Will Make You Ditch Lyft
Snapchat
I think it's safe to say everyone with a cell phone has become dependent on Snapchat and car services.
Let's face it: It's 2017, and apps like these have become a normal (and essential) part of our everyday lives.
Whether you're an Uber enthusiast or an advocate for Lyft, you have to admit you use Snapchat during your car rides. Don't be ashamed — we've all been there.
It looks like Uber noticed how much customers snap in the backseat because the company is releasing adorable new Snapchat filters you can only unlock while you're on an Uber ride.
Pretty cool, right? Now, you'll be able to let your friends know you're on your way with a cute Uber filter.
The first batch of Uber Snapchat filters went live in December, but the new filters the company is releasing on March 15 are appropriate for the upcoming season.
Before I show you what the new filters look like, let's talk about how to download them during your ride.
Once your Uber ride starts, you'll be able to find Snapchat within the Uber app. Then, you can select the type of filter you wish to unlock, snap your selfie and swipe right.
To make the filters even more fun, you'll be able to use other Snapchat filters on top of them (don't lie, I know you love the puppy one).
Uber's new Snapchat collection includes a St. Patrick's Day filter, a winter filter, a commuter filter and a late-night filter. Each one has a different time frame when it will be available.
Coley Holnback, product marketing manager at Uber, talked to Elite Daily about the fun new filters.
She said,
We know that taking an Uber can be a easy and convenient experience, but we're also always looking for ways to make it more fun. People love to snap while they ride, so we're excited to be rolling out the next set of filters — just in time for spring for riders to enjoy.
Luckily, I got the chance to try them out for you guys (OK, I'm not in a car, but just imagine I'm sitting in the back seat of a shiny, sleek Uber).
Irish Filter (Live on March 15 to March 19)
"Irish you were here." SO CUTE.
Winter Filter (Live on March 20)
This one will be available on the last day of winter.
Commuter Filter (Live during commuter hours)
Use the commuter filter from 6 am to 10 am or 4 pm to 8 pm Monday through Friday.
Late-Night Filter (Live Fridays and Saturdays from 12 am to 4 am)
Use this one to snap your friends on the way home from the bar.
Excuse my awkward selfies, but these filters are pretty adorable.
I don't know about you, but I'll definitely be snapping with one of these filters in the back seat of my next Uber ride.
Try 'em out on Wednesday morning during your commute to work!