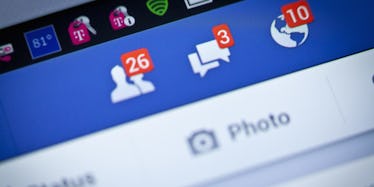 You'll Soon Be Able To Make Your Facebook Profile Picture A Short Video
Shutterstock
Don't you DARE assume Twitter is the only company unveiling major upcoming changes this week because Facebook will not be ignored.
Yesterday, the site announced plans for a series of alterations including profile videos, Mashable reports.
Beginning at 11 am PT/2 pm ET today, California and UK users are able to preview the feature, which allows them to upload 7-second clips rather than motionless default photos.
The video will only loop when someone visits the user's page, so thumbnails along the newsfeed will be one static frame from the clip.
Other adjustments to the social networking site include a user's ability to set an interim profile photo, like the Celebrate Pride filter or a picture promoting an upcoming event, that switches back to the previous default picture after a set time frame.
Additionally, Facebook is reportedly adding a one-line bio field for users worried the site isn't enough like Tinder.
Anyone concerned about the mechanics of uploading a video as a profile image (Mom) will be happy to find a tutorial accompanying the wide release of this feature.
Citations: Facebook is bringing profile photos to life with 7-second videos (Mashable)