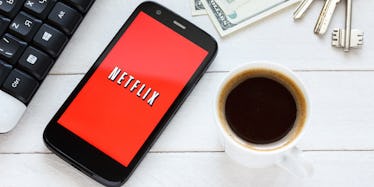 Netflix Browsing Habits Reveal Millennials Are Basically Quitters
Shutterstock
A new study conducted by Netflix found the average user spends just 60 to 90 seconds looking for something to watch. After that, they're probably calling it quits and doing something else.
Per these findings, which indicate people generally sift between 10 and 20 titles before giving up, the streaming service is looking to revamp its system to capture users' attention faster.
In a blog post Wednesday, Netflix VP of Product Innovation Carlos Gomez-Uribe wrote,
The personalized recommendations we offer members are central to the Netflix experience, helping people find something great to watch quickly and easily. After an entire year, efforts from dozens of teams across the company, and intensive research, we developed and deployed a global recommendation system that will benefit Netflix members across the world.
It's good news for those of us with short attention spans — and for those of us who've watched just about all there is to watch on Netflix.
I'll be taking this as an excuse to watch Netflix all weekend.
Citations: Netflix Knows How Long You'll Search Before They Lose You (NBC News)