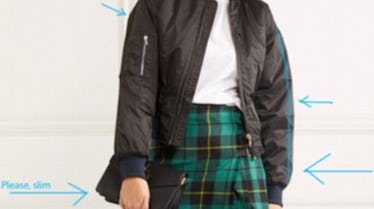 Net-a-Porter Accidentally Posts Pic Revealing How Much Stores Photoshop Models
Net-A-Porter
Welp, we all kind of knew it was happening, but now we've got some actual proof.
Net-a-Porter, a luxury British retailer, was caught using Photoshop on its models after an image was accidentally published to their website showing photo editing instructions.
In the photo, the model, Amelia, was surrounded by blue arrows drawn to different parts of her body with the instruction, "Please, slim."
The image remained unnoticed by the site for a considerable amount of time, but it has since been removed and replaced with the same picture, sans the editing annotations.
Interestingly, the current image on the site appears to have not made any of the Photoshop amendments previously noted, as it appears identical to the original.
A spokesperson for Net-a-Porter said,
We post images that accurately represent the garments so that customers receive product they expect. This image was uploaded to our product page in error and the notes refer exclusively to the garments.
Hah, riiiiight.
As we know, Net-a-Porter is not the first high-profile brand to pretty blatantly reveal they use Photoshop to edit their models.
Just last month, several people were upset with the way the cover of the March issue of Vogue turned out.
Gigi Hadid's arm looked long enough to singlehandedly put two people in a chokehold at the same time, while Ashley Graham was posed with her hand covering one of her thighs. Plus, Graham was the only model dressed all in black, suggesting she needed more "slimming" than her fellow models, who all wore colorful shorts.
Now, most of us will obviously never know for sure what details of any given photograph or advertisement are edited, but we're not stupid; we know it's happening, and we know most big-name brands are doing it.
And, though it may be on a subconscious level, we also know the messages behind these types of advertisements aren't good for our well-being or sense of self.
It's straight-up toxic, and in this day and age, it's all kinds of unnecessary.
Citations: 'Please slim': Net-a-Porter suffers an almighty Photoshop blunder after instructions to doctor a shot to make the model thinner are revealed on the website (MailOnline), Advertising's toxic effect on eating and body image (Harvard T.H. Chan School of Public Health)