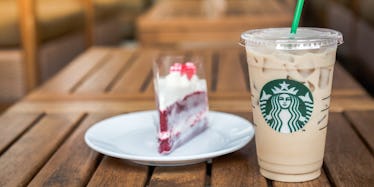 The New Starbucks Rewards Program Will Make Getting Free Coffee Easier
Shutterstock
When Elite Daily first covered the new My Starbucks Rewards program this winter, some of you flipped the proverbial table and began to organize a full, outraged mutiny.
Well, calm your bodies and minds, little Teresas.
I am back with a combination of A) complete and total surrender (it's happening, and there's nothing we can do to stop it!) and B) helpful information (perks! hacks! GIFs for funsies!).
If you haven't read up on the original changes to the program announced in February, refer briefly to the graphic below.
Great, fantastic. Now that we're on the same page, let's talk about how to milk the hell out of this program so that every dollar spent on fancy coffee goes as far as humanly possible, shall we?
1. Get automatic Gold Status from April 12 to May 2.
Normally, Starbs beginners would need 300 stars to initially reach Gold status. To make the MSR transition easier, Starbucks is giving Gold status away from now until May. That means when you sign up for the MSR program online or via the app, you're automatically rewarded Gold status upon making your first purchase. I almost wish I was a Green-level card holder just to feel like a part of this magical promotion.
2. Collect 125 stars to earn a reward (aka any food or drink item on the menu).
Since each dollar spent earns you two stars, you get a free item (a massive, complex monstrosity of a drink, obviously) of your choice after spending roughly $62. Before the switch, latte chuggers who enjoy a morning bakery item now and again could spend way more cash than that trying to get 12 stars in their banks. There's no longer a need to stand in line twice in one visit to make every dollar count.
3. Look out for monthly Double-Star days.
These self-explanatory holidays occur randomly once per month. Gold members will get an email when star stocks rise for a brief, shining 24 hours.
4. Get six free stars when you refer a friend.
I cannot tell you how many co-workers of mine never bothered to download the app and take part in MSR. As basic as you feel referring people to the largest coffee chain in the world, it gets you closer to free coffee from the largest coffee chain in the world. Just think about that for a second, then send Amy from HR the damn referral.
5. Get stars at the grocery store from select Starbucks items.
YOU THOUGHT THESE DIDN'T COUNT, BUT THEY 100 PERCENT DO, YA BUMS.
6. Redeem a free drink or food item on your birthday.
Despite the fact this perk isn't new, it's reassuring to know it's here to stay. Birthday 'Bux may currently only be a staple among the Basic B*tch community, but no one can argue with free anything, especially on his or her day of birth. You worked hard climbing your way out of another human being. You deserve this.
7. Free refills on hot or iced coffee or tea.
F*CKING WHAT??? WHAT??? WHAT??? SOMEONE TELL ME WHAT. RIGHT NOW. TELL ME WHAT. I NEED TO HEAR IT FROM SOMEONE ELSE. WHAT??? SHUT UP.
8. Skip the line by ordering ahead with Mobile Order & Pay on the mobile app.
This is actually the most helpful thing if you're the kind of person who always baaarely makes it to work on time. You order and pay with the Starbucks app on your way to work, then stop in, saunter up to the counter where the drinks come up and raise your eyebrows up and down like a cartoon villain while everyone eats your freaking dust. It's the best.
9. Check out Spotify Exclusives through the app.
If you're a self-described "music person" who misses the days when you could scoop up the newest Norah Jones EP with your Americano (looking at you, Uncle Bill), this perk is just for you.
10. Earn stars outside of Starbs via partnerships through Spotify, Lyft and Chase.
This perk is still in the works, but once it kicks in Starbucks will officially own our souls. So, stay alert for that because you won't feel a thing.
If you're a Starbucks freak looking for a little customer appreciation, it's all yours starting right this very now.
If you're not at all interested in coffee and came for the Teresa Giudice GIFs, I got you too, booboo.