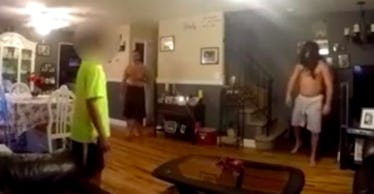 Mom Films Naked Men Assaulting 12-Year-Old Son To Warn Him Of Online Dangers
YouTube
In an attempt to teach her son about the dangers of talking to strangers online, a mother arranged for a 22-year-old man and some of his friends to pretend to lure the young boy into a home and abduct him.
The mom joined forces with YouTube personality Coby Persin after growing more and more concerned with her son Thomas' online activity with strangers.
Their story appears in a video titled, "The Dangers Of Social Media (Child Predator Experiment) Boy Edition!"
Persin, a self-described "social experimenter," created a fake social media account under the name "Amanda" and chatted with Thomas for only a day before asking him to come over and hang out.
The boy's mother was horrified to see her son quickly agree to ride his bike over to a complete stranger's home.
The video shows the young boy entering "Amanda's" home, before two strange, half-naked men enter the scene and violently accost Thomas.
They grabbed him and shoved him onto the sofa as he cried out desperately for help.
His mother then came into the room and yelled at her son,
This is exactly what you get! How many times I have I told you not to talk to strangers on the internet? And then you walk into a stranger's house not knowing what to expect?
Thomas, clearly traumatized, sat on the couch while his mother explained how dangerous the situation could have been.
Persin enters the room as well, and tells Thomas,
Do you understand what you're doing to your mother right here? You just walked into a stranger's house, you don't know who they are. You met them online and within 24 hours you're here? This is real life. This happens to kids and they don't come back.
Though certainly controversial, it appears the young boy did learn a valuable lesson about talking to and meeting up with strangers on social media.
Citations: Mum Lets 'Paedophiles' Assault Son To Teach Him Lesson (UNILAD)