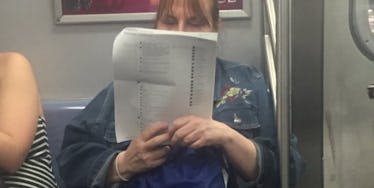 This Woman's 15-Page Printout Of Facebook Comments Is The Most Mom Thing Ever
Twitter
So, it's come to this.
A human being has gone to such extreme lengths to avoid social interaction it's making us question the meaning of life.
This woman actually printed off 15 pages of Facebook posts and read them on the subway.
WUT?
A woman on the subway printed out 15 pages of Facebook posts and is just reading the comments pic.twitter.com/JEbnzM9ftR — Alex Steinman (@AlexSteinman) July 6, 2016
The upsetting scene was captured by Alex Steinman, a social media editor at Entertainment Weekly.
It looks like the woman stapled those pages together at the corner for browsing ease. This has been planned. Thought has gone into this.
Can we talk about theories as to WHY this is happening? If you think about it, it's very possible this is work-related. She might be, like, a manager or something who needs to investigate a post written by one of her employees. Yeah, that's plausible.
MAYBE this is a massive trend and loads of people are doing it and we're just not cool anymore.
Or, maybe this is the ultimate case of moms failing to use Facebook in ways that are at all socially acceptable.
The struggle is so real.