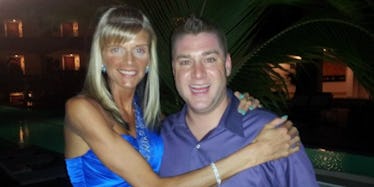 Model Dies At 77 Lbs After Everyone Mistakes Scary Condition For Anorexia
GoFundMe
Lisa Brown would have, at one point, described her life as "perfect."
She attended college and graduate school, and she married her loving husband Patrick. The 5'10" former model was a substance counselor and arts and crafts fanatic.
She was always busy. She loved working, cooking delicious meals and driving her parents' classic Mustang convertible with Patrick.
When she turned 28, though, Brown started to lose weight. She was essentially starving to death -- but not by what many people thought was of her own doing.
Brown would vomit after every meal and couldn't move because of stomach pains.
She went from a healthy 140 pounds to just a scary 77.
She said,
People would say I should eat a burger and they'd ask me why I was starving myself. It was very hard to hear but I knew the truth.
Doctors found Brown suffered from superior mesenteric artery syndrome or SMAS. Her small intestine was pinched and unable to let food pass. She was diagnosed with gastroparesis later, which means her stomach could not empty correctly.
They saw no evidence of anorexia or bulimia.
It was recommended that Brown have a small intestine transplant, but she was unable to gain 20 pounds in order to safely have the surgery.
On Saturday, after being in hospice care since October and despite therapy and surgery, the 34-year-old passed away in Brookfield, Wisconsin.
She told People,
It's my time to go. I'm done fighting.
Brown asked that no one wear black to her funeral and that attendees wear bright colors and tell fun stories. She made a thank you card for everyone who attends.
Her husband Patrick said,
The last thing I said to her was, 'Go be free.' I already miss her so much. I wish I could see her every day but she's now at peace.
Patrick started a GoFundMe page to help pay for Lisa's memorial and his unpaid leave from work.
He said,
We've always made a really great team.
Citations: Former Model Starved to Death—but Not From Anorexia (Newser)