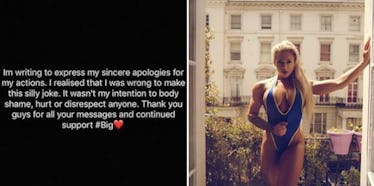 Model Shames Woman's 'Love Handles' In Sneaky Pic But No One Buys Her Excuse
Instagram
Bodybuilder Diana Andrews made a really uncool move at the gym the other day, which is garnering her lots of backlash from concerned fans and gymgoers.
While working out, Andrews surreptitiously took a photo of a fellow gymgoer, but did it to mock her.
The woman was on a treadmill. Andrews post a photo of her on her Instagram story, labeling it, "Love handles."
She then posted a black screen with the words, "I bet she's ordering [hamburger emojis] for delivery."
A lot of people were understandably upset Andrews decided it was OK to make fun of a woman at the gym behind her back. Andrews also has a large Instagram following, making it especially cruel.
The backlash started rolling in.
Some people pointed out this shaming is why many people choose not to go to the gym.
Others compared Andrews to Dani Mathers, the former Playboy model charged with invasion of privacy for a photo she took of a fellow gymgoer to mock her.
Some went revenge body on Andrews.
Model Tess Holliday also weighed in, calling Andrews' behavior "not acceptable."
Holliday also referenced fat-shaming responses to the recent announcement that Nike is making a plus-size line.
Andrews then sent out an explanation on Instagram.
It wasn't an apology — it was an excuse. She said,
Im writing to express my sincere apologies for my actions. I realised that I was wrong to make this silly joke. It wasn't my intention to body shame, hurt or disrespect anyone. Thank you guys for all your messages and continued support
The Instagram is now set to private mode.
In a Facebook apology, Andrews suggests people were missing her point — it was the fact the woman was using the phone while on the treadmill. Currently, the post cannot be located on the social media site.
The internet was not having her bullshit "apology."
There were also a bunch of responses calling Andrews ugly, referring to specific parts of her looks in disparaging ways. It should be noted talking like that is equally not OK.
It's enough to call out someone's actions if they did something wrong. Body shaming in all forms is not alright.
We all just need to be kind and focus on ourselves at the gym. It's about self-improvement, not people watching.
Andrews owes the woman she photographed a real, sincere apology.
Citations: This bodybuilder shared fat-shaming photos of a fellow gym-goer to her 17,000 Instagram fans (Revelist), This Instagram Star Just Brought Most People's Worst Gym Nightmares to Life (ATTN), Female bodybuilder shames woman at the gym over her 'love handles' - and instantly regrets it (Mirror), Female bodybuilder comes under fire after she shames a woman in the gym by posting a photo mocking her 'love handles' and joking she was 'ordering burgers' (MailOnline)