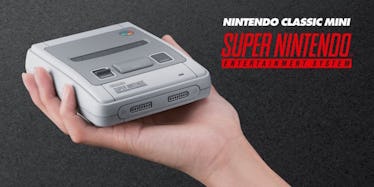 Mini Super Nintendo Is Being Re-Release With Our Old Favorite Games And Twitter Can't Deal
Nintendo
If you're a child of the '90s, odds are you know a thing or two about the Super Nintendo Entertainment System.
Growing up, any free time I had would be dedicated to getting my butt kicked by my cousins while playing Super Mario World. After all, I was 4 years old and knew nothing but the fact I loved that video game.
Playing Super Mario came to an end for me when I got into the world of Barbies, but I'd be lying if I said I don't get nostalgic thinking of those simple days. You know... the time in my life when the most inconvenient thing I experienced was having to blow into those pesky video game cartridges.
If you want to escape adulting and reminisce on simpler times, you're in luck. Nintendo announced Monday that they're re-releasing a version of the mini Nintendo game system that we all know and love.
The new console will officially be named "Super NES Classic Edition" and will come stacked with classic video games built into the system (that means no cartridges to blow into!).
Are you wondering what games will come installed in the new console? Well, you can expect to see Donkey Kong Country, Kirby Super Star, Super Mario World, and 18 other classic games.
The Super NES Classic Edition will retail for $79.99 and is set to be released Sept.29 -- so mark those calendars, people!
The Super NES Classic will also be capable of saving where you left off in all 21 games, making starting games from scratch a thing of the past.
Gamers and nostalgia lovers far and wide have taken to Twitter to express just how excited they are about the upcoming release.
"BRUH, THEY'RE DOING IT."
Let's hope Nintendo will restock if they run out of the SNES and not leave us wanting more like they did in 2016!
Happy gaming, everyone.