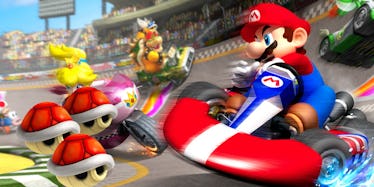 Nintendo Revealed Its New Console And Holy Crap Mario Kart Looks Amazing
Nintendo
If you're a Nintendo lover like me, you'll understand what I mean when I say Mario is basically my surrogate dad.
He raised me. His mushroom friends were my friends, and Luigi was like that weird uncle you have who only comes around once a month to borrow your father's tools.
I've since fled the safety of my gamer chamber – complete with big chair, flat screen and every Nintendo console under the sun – to tackle the big, bad world of adulthood.
But that doesn't mean I don't squeal like my 7-year-old self when I hear any news about daddy.
I wept today when I heard Mario's back.
Nintendo's poised to release a new console called "Switch." Bonus: There's a new Mario Kart to boot.
You can expect new features and the return of an awesome character: King Boo.
Eagle-eyed fans spotted Boo in a sneak peek video posted on YouTube today.
Obviously, people are having a hard time holding their shit together.
There's a lot to expect from the new Switch console.
For starters, you can play it anywhere: in the living room, in the park, on a plane.
See? Literally anywhere. (Although an inflatable banana boat is not advised.)
It sits in a Nintendo Switch dock at home for normal gameplay. But it's designed to be taken out. With the addition of connectable controllers, it can be played on the move.
The multiplayer gameplay looks mega too. Reggie Fils-Aime, President and COO of Nintendo America, has said,
Nintendo Switch allows gamers the freedom to play however they like. It gives game developers new abilities to bring their creative visions to life by opening up the concept of gaming without boundaries.
But don't go rushing to put the Nintendo Switch on your Christmas list. Its release date isn't until March 2017.