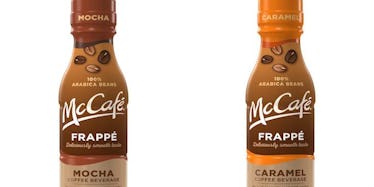 McDonald's Will Sell Bottled Frappés Soon And They're Perfect For Busy Mornings
McDonald's
As the days get shorter and the sun comes up later, it's easy to keep hitting snooze to avoid starting your day in the dark. Sometimes, you're even forced to sacrifice your precious morning coffee just to make it into the office on time. Get ready to say goodbye to those drowsy mornings: McDonald's will sell bottled Frappés soon because, well, sometimes you don't even have time for a quick drive-thru run. According to the fast-food chain, the ready-to-drink McDonald's bottled frappés will be available in early 2018.
The fast food company is partnering with Coca-Cola to bring the taste of McCafé to the shelves of your local grocery store. With the release, you will have your choice of three flavors to start your day: Caramel, Vanilla, and Mocha -- a caffeine jolt so delicious that you'll find yourself waking up to your first alarm.
If you like some variety in the morning, you can mix it up even more by also picking up something from the company's line of whole bean, ground and single-serve coffee currently available nationally in retail stores. If you're a planner and you're already plotting out your New Year's Resolutions, you can count on knowing you'll have your McCafé Frappé ready to go to help you avoid sleeping in and accomplish your resolution to actually get to work on time.
What gives for this latest (and awesome) news? This year, McDonald's has recommitted to McCafé by refreshing its branding and creating new and re-crafted espresso beverages. This recommitment is what will bring the delicious McCafé Frappé taste to your grocery store shelves in 2018.
As you anxiously await the debut of these delicious ready-to-drink superstars of your morning makeover, you can head over to a McDonald's and check out the McCafé updates they've recently made in-store.
Make sure you set a reminder to add McCafé Frappé to your grocery list next year so you don't miss out.