Guys, is getting into a massive fight, having it filmed and then slapped on the internet really worth a $500 discount on a brand new Samsung TV?
Wait. Did you say $500? And it's curved, right?
EVERYONE GET OUT OF MY WAY RIGHT NOW.
*Charges into nearest Macy's with intent to harm others and purchase electronic goods*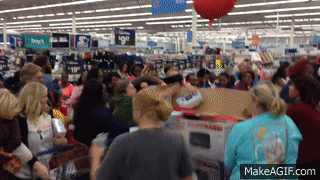 The rumors are true: Black Friday is as violent as hell.
I have to admit that, as a Brit, we used to hear stories about fights breaking out over crazy good deals across the pond. We brushed them off as exaggeration.
But over recent years, we've slowly inherited the Black Friday tradition, and I've witnessed first-hand the carnage that ensues so, you know, thanks for that.
The busiest shopping day of the year isn't even over yet, and there are already loads of videos popping up online.
The one above entitled "crazy Black Friday fight," found its way onto YouTube and LiveLeak. I'm not sure where it was filmed. The only thing I have to go on is the description, which reads,
What losers! Too bad several of these millennial cockbags didn't get shot and killed. Losers!
Harsh words. But fair.
The fight looks like it's between numerous young people in the middle of a mall. They're fighting in the foyer before it spills into a nearby JCPenney store.
What a time to be alive. But wait -- there's more!
Listen to this woman go ham on someone in a Walmart.
She shouts about looking for her husband while wearing a super strong "Star Wars" top.
The fight's broken up by a jolly Walmart employee wearing a Christmas hat because he knows 'tis the season to defuse violence.
Then there's this video:
It's a casserole of cardboard and bodies and you're so glad you're not part of it.
Stay safe out there people.