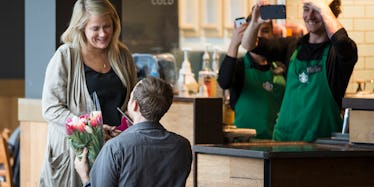 This Man's Insanely Romantic Starbucks Proposal Will Give You All The Feels
Starbucks
I've spent countless amounts of hours online watching proposal videos. To be honest, it's one of my guilty pleasures.
I've seen simple proposals, I've seen proposals at large events... heck, I've even encountered a few videos where the proposal comes by way of a flash mob! (Gosh, flash mobs are great.)
But a recent proposal — which took place at an airport Starbucks — has just given me all the feels, and now tops my favorite proposals list.
Brace yourselves for the romantic Starbucks proposal story of Austin Mann and Esther Havens.
Austin Mann met his girlfriend, Esther Havens, at an airport. The two are photographers whose work takes them all over the world — meaning the airport is basically a second home for the couple.
While on his way home from an assignment in Africa, Mann thought of a clever (and very romantic) idea.
Since he'd have to travel through Amsterdam Airport Schiphol (one of the busiest airports in Europe) and knew Havens would be passing through the same airport a few days later, he decided to leave her a hidden note at the airport's Starbucks.
The note came along with a riddle that he sent via text, which would help her locate the note. What a romantic gesture, right? The couple hadn't even started dating at this point in time.
Of course, the gesture brought out romantic feelings in Havens and the two became an item.
Havens said, "I thought, wow, he put a lot of effort into this. That for me was the start of, 'Who is this guy? Could I see myself with him?'"
The notes didn't end once the two started dating, though. Mann left Havens notes in Starbucks locations all over the world, but Mann knew he wanted to leave his girlfriend a certain note she'd always remember.
Mann planned on surprising Havens with her last "single girl" note at her favorite Starbucks in the Amsterdam Airport Schiphol.
He got together with her family and they all went to the busiest airport in Europe to give Havens the surprise of a lifetime.
Mann left Havens the note and told her where to find it. He got the baristas involved and told Starbucks,
[The Baristas] were all very excited. I gave them my iPhone 7 Plus to take video and got a Starbucks bag, poked a hole in it and put another iPhone shooting video in it on a table next to where I was going to propose.
After a little hiccup in his plan (Havens almost couldn't make it due to a security issue), "The Flower," aka Havens, finally entered the Starbucks. She found the hidden note, and with its direction, she turned to find the bar when she saw Mann standing right before her.
Mann proposed to Havens before her family (and all of the travelers) at the Starbucks in Amsterdam Airport Schiphol.
Havens said, "There are things we can dream about forever, but that's what I love about Austin is he does it. He makes it happen. He's like, 'Why not? I'll fly to the other side of the world.'"
The love birds have not set a wedding date, but if this proposal is any indication of what's to come, that wedding is surely going to be one for the books.
Hopefully Starbucks will be involved, too.