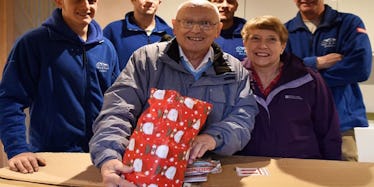 Man Receives Gifts From A Christmas List He Wrote To Santa 72 Years Ago (Video)
In 1943, a 6-year-old boy named David Haylock wrote a letter to Santa and buried it in his chimney for Saint Nick to find.
In 2015, Santa finally responded. Well, kind of.
Builders working on Haylock's childhood home in Caversham, England uncovered the long-lost Christmas list more than 70 years after it was written.
After reading over the list, construction worker Lewis Shaw took it upon himself to track down the letter's author and grant his holiday wishes. He bought the requested items — a drum, a box of chalk, toy soldiers, slippers, a silk tie and a pencil box — and gift wrapped them along with the letter.
Shaw explained,
We take down a lot of chimneys and we find the odd cigarette packet or newspaper. But when you find something so personal it touches your heart.
Shaw hand-delivered the gifts to Haylock and invited him back to the house. Haylock, now 78 years old, was floored by the holiday surprise.
However, he joked,
Seeing as it's taken more than 70 years for the letter to get to Father Christmas, I think email is probably the best way.
Email, snail mail, in any case, Haylock's tale is a Christmas miracle.
Citations: Man Finally Receives Presents 70 Years After Writing Letter To Santa, And Christmas Miracles Really Do Exist (Bustle), A 1943 letter to Santa was just found. The boy, now 78 years old, finally got his gifts. (HelloGiggles), Santa list gifts given 70 years on after chimney find (BBC)