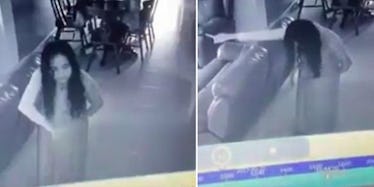 Creepy Video Of Maid Being 'Possessed By Ghost' Has Everyone Losing Sleep
Viral Press UK/MailOnline
A video appears to have captured a woman's maid being possessed by evil spirits.
After watching footage from surveillance cameras, Nurul Baker noticed her maid's strange behavior in the middle of the night.
In the creepy video, the maid is seen walking around Baker's Singapore home with her body bent forward and her hands behind her back.
She shuffles aimlessly around the house, at one point sitting down on the floor.
She also points at random objects in the room as her hair dangles eerily in front of her face.
Baker described the bizarre incident and said,
My maid got possessed by ghost in my HDB flat after she came out of the shower. It's lucky mum and kids were not home.
The footage — which comes a few weeks after a haunted morgue video captured everyone's attention — has proven to be pretty controversial.
While many people are terrified by what they saw, others believe the maid was faking it so she could leave her job and return to her home country.
One viewer pointed out, based on the maid's behavior, she seems to know exactly where the hidden camera is located and where it is facing.
Justin Chen commented on the video, saying,
Did you notice she does this at where the camera is facing? She's not doing it near the balcony or partially hidden. She knows where the camera is facing, and she wants you to see this. Still, it is unsettling to know your maid does this. It seems she doesn't want to work for you anymore.
Chen went on to warn Baker the maid might escalate her antics to dangerous new levels in order to terminate her employment.
Enzo Lumpkins shared a similar sentiment and added,
This kind of fake possession very common. Don't fall for it. My maid did it previously and she confessed that this was what all the other maids told each other to do if they wanted an exit strategy.
Woah. That's one way to quit a job, I guess.
Citations: Woman discovers chilling footage appearing to show her maid POSSESSED and acting like the creature from horror film The Ring (MailOnline)