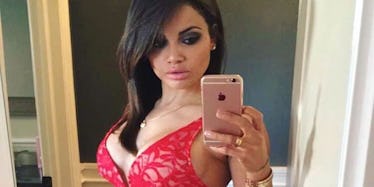 This Lingerie Model Police Officer Is Making Everyone Dream Of Getting Arrested
Last year, we introduced you to Miguel Pimentel, a smoking-hot NYPD officer who made a lot of people want to do very, very bad things.
It turns out Pimentel isn't the only officer who's giving people all the feels.
Apparently, New York is also home to a lingerie model police officer who puts bad guys behind bars during the day and poses in front of the camera at night.
Take one look at Sepulveda, and it's not hard to see why people are basically begging to be stopped and frisked by this gorgeous gal.
She might just be one of the sexiest cops on the force.
In fact, most of Sepulveda's suspects don't even try to put up a fight — they just follow her back to the station willingly.
She told the New York Post, "I talk men into handcuffs all the time because they don't want to fight me."
Plus, a lot of her convicts also tell her, "You can arrest me any time!"
The 32-year-old bombshell became a police officer in 2010.
Three years after joining the force, she was invited to do a runway show for her friend's lingerie company.
Since then, this cop has been showing off her curves as she models underwear around the world, making her 110,000 Instagram followers drool over her bikini selfies.
Sepulveda says she has received some criticism for her scantily-clad snapshots. However, she claims her jaw-dropping photos simply "celebrate a woman's body."
While lingerie may be a staple part of her wardrobe, Sepulveda tries to keep things professional while she's on duty.
She swaps out her lacy ensembles for her uniform, skips the makeup and wears her flowing locks tied back.
Apparently, Sepulveda believes there's a big benefit to being a female cop, since she can deal with hostile stand-offs better than her male counterparts.
According to Sepulveda, "With a female officer, their guard is lowered. There's less aggression and the situation is defused."
The cuffs don't stop Sepulveda's criminals from asking her out on dates, either. But then again, you can really blame convicts for wanting Sepulveda to lock them up and throw away the key?
This stunning police officer looks so good, it should be illegal.
Citations: New York's finest! Sexy female cop arrests suspects by day, and works as a lingerie model by night (Daily Mail), FacebookTwitterGoogleLinkedInEmailCopy METRO Criminals can't wait to be arrested by this sexy cop (New York Post)