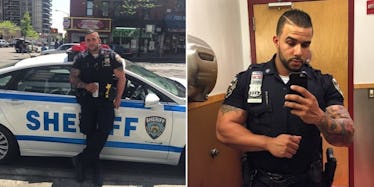 The Internet Is Going Crazy Over This Hot NYPD Cop's Instagram Account
A while back, we introduced you to a handsome hipster cop who turned a lot of heads in London.
However, he's not the only man in uniform taking the Internet by storm.
There's a new officer on the cell block, and in all honesty, you might want to brace yourself: This man is going to make you want to do bad things... very bad things.
Meet Miguel Pimentel.
This heavenly hunk is extremely shredded, tatted up and, to put it mildly, probably the hottest cop on the face of the planet.
Thanks to his impressive Instagram account, Pimentel recently became quite the sensation on social media, and now, people are lusting after this eye candy of the law.
But before you rob a bank to get in this officer's backseat, I have some bad news for you: He actually has a girlfriend.
Sorry, ladies; the good ones are always taken.
Miguel Pimentel isn't your average police officer.
Aside from being one of New York City's finest in blue...
 ...this 33-year-old deputy might just be the hottest thing to ever happen to law enforcement.
It's not hard to see why women are falling for this guy.
Between his huge muscles...
Tempting tattoos...
And sexy Instagram selfies...
...there's no denying this officer is hot as f*ck.
Really, he looks so good, it should be illegal.
In addition to being a really hot cop, Pimentel is also a former Marine who toured in both Iraq and Afghanistan during his 10 years of service.
He began bodybuilding while on active duty, and his hard work has clearly paid off.
His monster muscles won the National Physique Committee New Jersey State Championship in 2013.
Pimentel recently gained a lot of publicity for his good looks.
Now, lots of people are begging to get stopped and frisked by this hunk.
Please, Officer Pimentel... Just lock me up and throw away the key.
Citations: New York City Sheriffs Deputy Miguel Pimentel Inundated With Female Attention (Daily Mail)