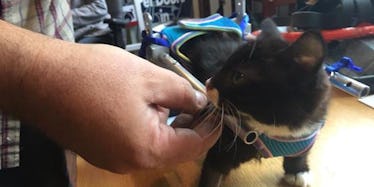 Adorable Kitten Missing Back Legs Gets Tiny Wheelchair To Help Him Walk (Video)
This adorable cat has two legs, one kick-ass, mini kitty wheelchair and a will to survive that would make Gloria Gaynor proud.
When Cassidy the cat was first found, he -- yes, he -- was missing his two back legs and struggling to make his way across a property in Langley, Canada.
The property owner who found the 9-week-old cat called in TinyKittens, a feline welfare service. TinyKittens sent over Shelly Roche to capture the cat and bring him in for treatment at Mountain View Veterinary Hospital.
Veterinarians originally were not optimistic Cassidy would survive due to malnourishment and an infection in both of his hind leg stumps.
Thankfully, Cassidy proved the doctors wrong, and with the help of his tiny, custom wheelchair, he is now living a full and active life.
Roche told BuzzFeed,
He needed meds, fluids and syringe feeding every few hours around the clock for the first week. I had to learn how to manually express his bladder because he couldn't go to the bathroom by himself for the first few days. He pees like a champ now, though!
Cassidy's wheelchair was originally built by two students at a local high school who created the device using a 3D printer, but Cassidy since received a more professional walking aid from Handicapped Pets Canada.
Bipawd #MiracleKitten Cassidy trying out the tiniest wheelchair @Petaccessguy has ever built! http://t.co/hD35ziKGVf pic.twitter.com/0XSnaBBZ84 — TinyKittens HQ (@tinykittensHQ) September 24, 2015
His popularity even led to TinyKittens setting up a webcam so fans could keep track of this never-say-never kitten.
Great. Now that he's cured, can we work on getting him a less-confusing name?
Citations: Tiny kitten with two missing paws gets a teeny wheelchair to frolic in (Mashable), This Two-Legged Kitten Recovered From Starvation And Now Has His Own Tiny Wheelchair (BuzzFeed)