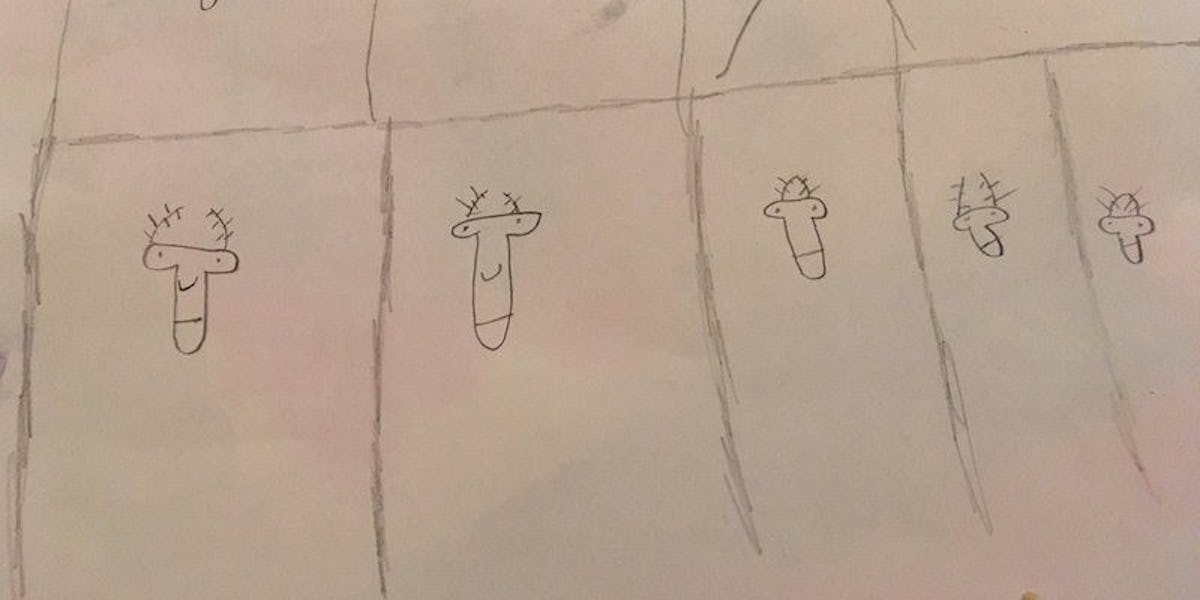 Mature Adults Can't Stop Laughing At Kid's Accidentally NSFW Reindeer Drawing
Twitter
Kids are dumb. It is true. Kids are just real idiots. Their brains haven't finished growing, so they don't know how to think or draw well.
We, as adults, find how dumb kids are really funny. I do not have to explain this to you. You know this already. It's the same reason we like dogs.
For example, please observe this very stupid, brand new homo sapien who SUCKS at getting water from this hose into his mouth (and also really sucks at growing hair).
We especially like when children accidentally – because, as I've explained, they are dumb – say or draw sexually explicit things.
Today we focus on a particular drawing that one really dumb, small-brained kid who doesn't know how funny penis drawings are to every living adult, made of Santa's reindeer.
This 6-year-old tried to draw Santa's reindeer in a reindeer stable. He or she ended up drawing five smiling penises with weird ball pubes.
Here, get a closer look.
Makes you rethink Rudolf's red nose, does it not? Rudolf, go to the doctor, you have chlamydia.
Laugh. You can't help it. It's OK. Penis drawings are funny. There is nothing any of us can do about it.
Connie Bennett, the child's mother, posted the picture to Twitter, where pictures like this belong.
What I want to know is what the X is in the top right corner.
Is that where one of the reindeer used to sleep, before it broke its leg during a present delivery and Santa had to take it behind the shed and shoot it in the skull with a rifle?
And one more thing: what is the thing in the top left corner? It may or not be a micro-reindeer. I will update you as soon as I know more about this.
Also, now that I think about it, the reindeer kind of have names that would fit penises.
Dasher. Comet. Vixen. Blitzen (gross). Cupid.
I think I've proven my point.