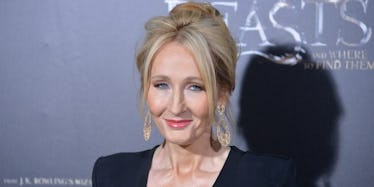 JK Rowling Claps Back At Rude Trump Adviser Who Bullied Woman On Twitter
REX/Shutterstock
Have you been on Twitter lately? It's turned into a spooky place.
If you stay on the fun, careless side of the social media platform, you'll be fine. But if you venture into the political side of Twitter, you just might stumble upon a bunch of trolls that'll tear you to shreds for sharing your opinion.
That's probably due to the tense atmosphere of American politics right now.
Who is responsible for this mess, and why are there trolls defending it?!
Apparently, some of these vile "trolls" can even be official advisers to the president. Who knew?! That much was made clear after award-winning novelist JK Rowling clapped back at a rude Trump adviser named Roger Stone.
In true troll fashion, Stone obnoxiously lashed out at a Twitter user and called her an "ugly bitch."
A woman named Caroline asked the Trump adviser,
Do you know what libel is, Mr. Stone?
Stone's response? Well, it was certainly a rebuttal you wouldn't except from someone who has the ear of the president of the United States in his possession (not literally, but imagine).
Unfortunately for us, he actually said what he said, and JK Rowling caught it all.
After Stone deleted his tasteless tweets, JK Rowling put the 64-year-old political consultant on full blast. Exposed!
Rowling then took the fight straight to President Trump after he tweeted this.
She epically called him out regarding his alleged ties to Russia with a tweet of her own.
I think JK Rowling made it very clear she will NOT tolerate bullshit on Twitter. Furthermore, the 51-year-old author shined a bright light on some of the filth currently advising Trump.
It's certainly not a myth after all. Those tweets are cold, hard evidence!
Ugh, all of this JK Rowling talk is making me crave another "Fantastic Beasts" film. Rowling took to Twitter last week to hint at the upcoming sequel to the David Yates-directed "Fantastic Beasts and Where to Find Them" movie starring Eddie Redmayne.
All she said was, "Having a Beastly day...," as she shared a photo of a screenplay.
While it looks like we'll have to wait a little longer for the next movie, that shouldn't be too hard to do if JK keeps distracting us by keeping Trump's people in check on Twitter!
Citations: J.K. Rowling slams Trump adviser who called a woman an 'ugly b*tch' on Twitter (Mashable)