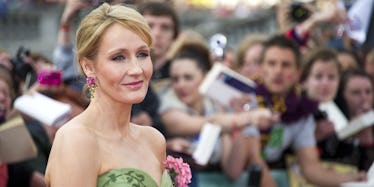 JK Rowling Gives Major Hint For Next 'Fantastic Beasts' With Cryptic Tweet
Shutterstock
If anyone knows how to stir up the hype, it's JK Rowling.
Remember when she broke the internet back in August after announcing the release of three new "Harry Potter" books through her digital publishing company Pottermore?!
"Hype" might've been an understatement back then. The internet nearly exploded with excitement. Who wouldn't want more of whatever Rowling's cooking up?!
This time around, the 51-year-old novelist is generating buzz around the next "Fantastic Beasts" film. Rowling tweeted on Monday to vaguely tease the sequel.
The tweet, accompanied by a photo of the film's screenplay, simply reads,
Having a Beastly day...
Hmm, "Beastly" with a capital "B?" What does it all mean?!
She's just so... mysterious!
Sure, she didn't leave us with much else to drool over, but we'll be OK, won't we, Muggles?! All we needed to know is the second "Fantastic Beasts" is coming.
Behold JK Rowling's cryptic tweet teasing the next "Fantastic Beasts" film. Are we there yet?!
The tweet quickly racked up over 9,000 retweets and 49,000 likes.
People can't wait!
It's safe to say fans want more of the spin-off originally inspired by a Hogwarts textbook.
Ms. Rowling, can you give us a few more details (pretty please)?!
Muggles are getting really desperate.
Patience, my friends!
Following the success of the first David Yates-directed "Fantastic Beasts and Where to Find Them" movie starring award-winning actor Eddie Redmayne, it makes perfect sense why JK Rowling is quick to get back to work.
Not to mention, the film's success won Colleen Atwood an Oscar for Best Costume Design on Sunday. Surprisingly, this particular Oscars win is the first-ever Academy Award for a film within the "Harry Potter" franchise.
I know that's hard to believe, but now you know why Rowling is already cooking up the next big thing!
And now, we wait...
Citations: J.K. Rowling teases next 'Fantastic Beasts' movie with one perfect tweet (Mashable)