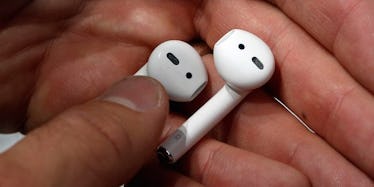 Hero New iPhone Feature Makes It Impossible For You To Lose Your Headphones
REUTERS
When Apple unveiled the new iPhone 7 in September, one major feature stuck out to everyone as a worrying point.
The tech company had gotten rid of traditional headphones and replaced them with these new AirPod thingies.
AirPods sent everyone into a panic because they're unconnected to anything and seem as if they can get lost pretty easily. Also, they cost $159, which is a big "LOL WHAT NOW" factor.
From what I've heard, the AirPods themselves are good, but their size definitely makes them easy to misplace. Matched with their high price, they are certainly frustrating a lot of customers.
And thus, Apple is on a bit of an apology tour for this design flaw. The company is releasing a new version of the Find My iPhone app in the new operating system.
This new version of the app will also include a feature to find your AirPods, so you can use the same app to find the location (or last known location) of your AirPods. If the AirPods still have battery left in them, you can apparently make them blast a sound to help you be able to find them.
That's a pretty good way to fix this problem. Although, of course, it would be nice for this issue to never have existed in the first place, but whatever, out of my control.
This Find My AirPod feature will definitely please a lot of customers who were having problems.
Some customers have more pressing (and trolling) questions for Apple about the new Find My AirPods feature, which they voiced on Twitter.
This new feature will be released with the new operating system, iOS 10.3, which is supposed to be rolling out in the next few weeks.
So be on the lookout for that update — as well as for the AirPods you already lost.
Citations: Apple is releasing a Find My AirPods feature (The Verge)