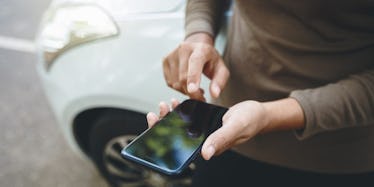 This iPhone 8 Rumor Might've Been Debunked With New Apple Earnings Report
blackzheep/Shutterstock
There was once that terrible, horrible, no good, very bad rumor that the iPhone 8 wouldn't be available until the end of the year. Techies were anxiously waiting the device's September arrival, yet predictions swirled that the design updates would delay the phone's release. Obviously, depression ensued. However, Apple's third quarter earnings released on Aug. 1 might've just quelled those nervous nellies who can't wait to get their hands on the 10th-anniversary phone.
The company's CEO made some pretty bold statements, and there's no choice but to feel just a bit giddy.
"We hosted an incredibly successful Worldwide Developers Conference in June, and we're very excited about the advances in iOS, macOS, watchOS and tvOS coming this fall," Tim Cook said in a press release.
This fall, people, this fall.
The fourth quarter predictions will be somewhere between $49 billion and $52 billion, according to Apple's report.
It's a strong suggestion that the iPhone 8 will release in September as originally expected.
Though, sadly, the report didn't specifically confirm the phone's release date.
Given that the third quarter reports exceeded expectations and came in at $45.4 billion, there's a good chance Apple's on target for the fourth quarter and those delay rumors will be squashed.
Though it's pretty exciting, there's still a lot at stake.
For one, customers haven't received an official release day just yet, so there's still a bit more waiting on their part (I know, I know). Rumors were flying that the cost would rival that of a MacBook, so that's less than encouraging news, but considering the phone is going to be out-of-this-world exciting — especially given the 10-year anniversary — it's no surprise it'd be a bit pricer than what people have been accustomed to.
Another thing to consider is that the design and colors have yet to be officially confirmed, so sit tight. Techies, you're definitely getting closer, but there's still a bit more waiting to do. Deep breaths, you're almost there.