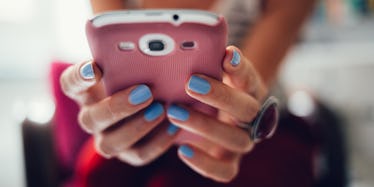 Instagram's Update Lets You Block Offensive Comments, Because Haters Gonna' Hate
Lumina
Instagram is a great place to reconnect with old friends, post your OOTD, share #FoodPorn pictures, and stalk your boyfriend's exes (come on, we all do it).
But Instagram isn't always brunch spots and fashion. Sometimes things get ugly, and instead of just talking about you behind your back, trolls take to your comments section to write nasty things about you.
Luckily, Instagram's new feature will let you hide those offensive comments from your feed.
Everyone has experienced a troll or two. Some people just ignore the mean comments left on their page, some go to war with the trolls, and others just delete the comments and block their haters.
Worrying about trolls will be a thing of the past, thanks to Instagrams newest update. Starting June 29, IG will introduce two new tools to keep the haters away.
One is a filter that will block offensive comments, and the other is a spam filter that will be available in seven different languages.
These coveted new tools come after IG received complaints from several users who've been discouraged about using the photo sharing app because of trolls.
Here's what Instagram had to say about the changes in an official blog post by the Facebook-owned company:
To help [trolling] we've developed a filter that will block certain offensive comments on posts and in live video. All other comments will appear as they normally do and you can still report comments, delete comments or turn them off.
For now, the offensive comments filter will only be available in English, with availability in other languages coming in the future.
The new spam tool will block and remove spam written in English, Spanish, Portuguese, Arabic, French, German, Russian, Japanese and Chinese. In other words, no spam if safe anymore!
CEO and Co-Founder of the 'Gram, Kevin Systrom, also assured user these new tools will also be evolving, saying:
Powered by machine learning, today's filters are our latest tools to keep Instagram a safe place... The tools will improve over time, enabling the community's experience of sharing to improve as well. We hope to make these filters available in more languages as our algorithms improve.
Bye, haters.