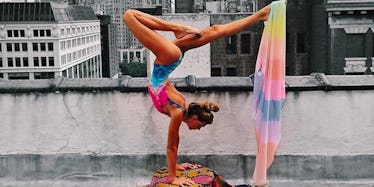 Instagram Yogi Shuts Down Haters Calling Her 'Skinny' And 'Gross' (Photos)
Apparently, this is the week all social media stars come clean.
First, Essena O'Neill kicked things off by revealing her entire social existence was fake. She subsequently deleted thousands of Instagram photos, launched a new site and is now feeling the wrath of other social stars calling her a hoax.
Now, Instagram star and yogi Sjana Earp is revealing something new to her nearly 1 million followers.
Earp's feed is like every travel-loving yogi's dream. Each picture is perfectly crafted somewhere on a beach around the world. Her outfits and poses are always on point.
But, as a follower, one thing you'll never see on any of her photos is a negative comment. Why? Because Earp refuses to let haters get her down about her "skinny" body.
She explains in part in an Instagram post,
It is probably sad, but I have become so used to peoples comments on my external appearance that they no longer bother me. I simply block any user and delete their comments if they are critical of me OR anyone else OR if they swear because I want this space (my profile) to be a place of love, empowerment and positivity... Not judgment and criticism.
Earp adds that she is "not going to apologies [sic] for posting an image" of herself, or to feel shame because others may not like the way she looks. She says,
Just because I have a very slender frame does this mean I should shame my own body and others that are (read more in first caption) x
Perhaps, all of these Instagram stars keeping it real will help us all be a little nicer to each other on social media.
Check out a few of Earp's stunning Instagram snaps below.