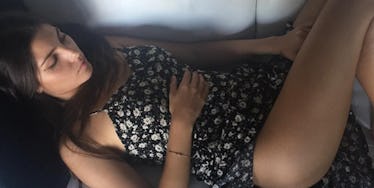 Instagram Model Says She Lost Thousands of Followers After Posting 'Real' Photos
Keeping it real like Essena O'Neill isn't for everybody, just ask London-based model Stina Sanders.
Sanders tells People Magazine she tried to follow O'Neill's example by posting unfiltered images on Instagram; however, her experiment didn't go quite as well as O'Neill's.
Sanders says,
I wanted to see what would actually happen if I stopped posting glamorous photos, and shared stuff that you wouldn't normally even share with your friends, stuff that is taboo, stuff that was quite crude, all that kind of stuff. Personally I think Instagram is so fake – the amount of filters, the airbrushing – so I thought it would be interesting.
As part of her personal challenge, Sanders posted photos depicting her normal routine including waxing her upper lip, seeing a therapist and even getting a colonic.
So what happened? Sanders says,
I thought that my followers would remain the same but I would get no likes, but the total opposite happened. I had an influx of likes, but I had a massive decrease of followers.
Maybe people just really like leaving a little to the imagination.
Sanders says when her experiment started, she dropped from 13,000 to just under 10,000 fans. As of Thursday, however, her fan count is just over 20,000, so looks like her Insta-experiment (and subsequent publicity) wasn't a total bust.
Check out a few of her more glam photos, along with her "real" photos and captions, below.
"Another day in paradise..." https://instagram.com/p/8kUOddH-NB/
"De-fuzzing Monday!" https://instagram.com/p/-I2Edun-HD/
"When you get to bed and realise you left the light on!" https://instagram.com/p/9A0GcRH-OM/
"Oh the IBS is bad! So it's colonic irrigation time..." https://instagram.com/p/98pG-PH-Iq/
Check out Sanders' Instagram account for more.
Citations: Model Stina Sanders Loses Thousands of Followers After She Over-Shares Her Unflattering Real-Life Beauty Regimen (People Magazine)