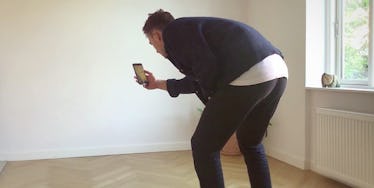 IKEA's New App Will Help You Decorate Your Dorm Before Buying Any Furniture
YouTube
Decorating a dorm room can be an arduous (but necessary) task. You get a few room dimensions from your school's website, and then you have to coordinate all the design decisions with your random roommate through sporadic messaging. Well, there is now an easier way to visualize what your new space might look like thanks to IKEA Place, an augmented reality furniture app.
According to Architectural Digest, IKEA Place will be able to show you exactly how that chair you've had your eye on for months will actually look in your space. To use it, you simply point your phone camera to an empty space, choose which IKEA furniture you want to test from the app, and it'll "appear" in your room. Then, you can move it around your space to see which location fits best. Pretty cool, right?
However, don't start buying with your parents' memorized credit card numbers just yet, because the app will only become available with the release of the the iOS 11 update coming in October. Apple's latest update will use Visual Inertial Odometry (VIO) and CoreMotion data in ARKit, which will, according to their website, "allow the device to sense how it moves within a room with a high degree of accuracy, and without any additional calibration"
The IKEA app definitely sounds like it's worth the wait. As Michael Valdsgaard, leader of Digital Transformation at Inter IKEA, tells Architectural Digest, "Apple has solved critical technical hurdles in AR, and ARKit gives us the opportunity to help shape the development of AR as an accessible tool for real-life decision making." Any help with making decisions is definitely welcome when you get to college and realize how much your parents actually did for you.
Once the IKEA Place app is available, you'll be able to see what your favorite pieces will look like with 98 percent accuracy -- no more lugging that gorgeous rug back to your dorm only to find out your measuring skills were way off.
What's even cooler is that the ARKit technology will allow you to also see how things like light and shadows will interact with your new furniture. Then, if you're satisfied with the true-to-life preview in the app, you can add the piece to your cart right there in the IKEA Place app.
Since the app doesn't debut until October, you can focus on trying to make it to your 8 a.m. classes (which you'll vow to never schedule again) and then use the IKEA Place app to give your space the easiest fall refresh ever.