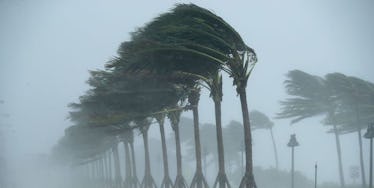 Hurricane Jose Might Hit The Eastern States Soon, And People Are Concerned
Chip Somodevilla / Staff ? Getty Images
It seems like you can't read the news these days without learning about another hurricane that's getting ready to touch down. First, Harvey caused devastation in Texas, then Irma hit Florida, and now the U.S. is preparing for another storm. Reports are showing that early next week could be when Hurricane Jose will hit the eastern coast of the U.S., and people are starting to prepare for it.
According to The Weather Channel, Hurricane Jose is currently a Category 1 hurricane located in the western part of the Atlantic Ocean, as of Saturday, Sept. 16. On Friday afternoon, an Air Force Hurricane Hunters plane found wind of 75 mph, which is the lower limit wind speed for a Category 1 hurricane. Jose is only getting stronger, though, as it continues to organize and strengthen through Saturday afternoon. Another check of the storm's wind speed will be conducted on Saturday to see where it stands.
It's too soon to determine exact locations, but the storm looks to be nearing the East Coast of the U.S. as early as Monday, and it will likely bring along with it dangerous rip currents and high surf. If it does touch down, it has the potential to cause tropical storm force winds that could reach along the eastern coast from North Carolina on northward.
According to the Weather Channel, there are other areas in the potential path of Hurricane Jose that include the Bahamas, Bermuda, and the north coasts of Puerto Rico and Hispañola. Large ocean swells are currently being created by Jose in these areas, and they are likely to continue through the weekend and into the beginning of next week. These swells could also reach the U.S. Saturday and Sunday, with Georgia and South Carolina seeing the possibility of waves larger than 10 feet reaching within their coastline.
Once again, it's too early to determine the exact latitude and longitude locations of where Jose will touch down, but the storm is being watched very carefully by those locations that are likely to be in the path of the storm. Currently, the forecast shows Jose curling north from its current location in the Atlantic, and forecasts show that it should turn northeast quickly enough to avoid direct inland impacts in both the Bahamas and along the U.S. East Coast. Even though the forecast isn't currently showing direct impact, it's important to remember that this is a Category 1 hurricane, and The Weather Channel recommends that areas with potential to be impacted by the storm to continue monitoring the storm in case there are any forecast updates.
The Weather Channel also continues by warning beachgoers taking advantage of these September summer-like temps that they should be on the lookout if they are in these areas that are expected to possibly be impacted by Hurricane Jose. Potential dangers include rough surf and life-threatening rip currents, and these dangers loom through early next week.
Meteorologists will keep updating residents of the status of Hurricane Jose as it nears its way toward the U.S. from its current location, which is about 480 miles south-southeast of the Cape Hatteras, North Carolina.
It's a relief to hear that Hurricane Jose is not as likely to touch down with a direct, strong hit, but since there is the possibility of it making landfall, it's good to know that proper safety precautions are being taken by diligently tracking the status of the storm. I don't think anyone wants to see more damage to the U.S. after seeing the devastation caused by Hurricanes Harvey and Irma. Those rebuilding efforts are still going on, and there are still ways to contribute to them while we keep and eye on Hurricane Jose.