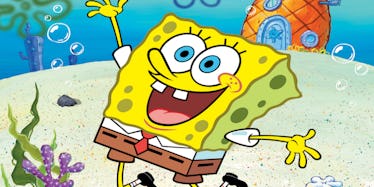 Humanized Versions Of Spongebob And Patrick Will Give You Nostalgic Nightmares
Nickelodeon
Spongebob and Patrick are two cartoon characters that every '90s kid knows all too well.
If you spent your childhood gawking over Spongebob Squarepants every Saturday morning, you probably know the dynamic duo is corky as hell and super hilarious.
In my opinion, they're BFF goals -- and they'll always be my favorite cartoon pair on Nickelodeon.
Recently, new images depicting Spongebob and Patrick as humans have completely changed my depictions of the friendly characters, and I'm really upset about it.
The now-viral images show the fry cook and his pink companion as rugged humans, and they're so realistic that you'll probably have a Spongebob Squarepants-themed nightmare or two tonight.
I'm sorry in advance for ruining your favorite childhood cartoon with the pictures you're about to witness.
I'm, um... speechless.
The 3-D models of Spongebob and Patrick are something out of a Nickelodeon nightmare, and I'm not sure if I'll ever be able to watch an episode without imagining these guys IRL ever again.
Let's take a closer look at each character, shall we?
As unsettling as this depiction of Spongebob is, the details are quite impressive.
Like his cartoon character, Spongebob's IRL model is wearing a Krusty Krab uniform with a spatula at hand. He even has spongelike pours, knee-high socks and his signature buck teeth.
The only thing that's missing is Spongebob's luscious lashes.
Now, let's take a look at Patrick IRL.
Oh my. Again, I'm at a loss for words.
Patrick's features replicate that of a buff, pink starfish with a neon swimsuit.
The only thing subtly comforting about the photo is the fact they're holding hands... because, like I said before, they're BFF goals.
Naturally, Twitter is having a hard time accepting the humanized characters.
Heck, even Spongebob is startled by the images.
NOPE.
Twitter can't handle the shock.
Let's take one more look at the duo...
No thank you.
I hope this didn't taint your depiction of Spongebob and Patrick too much.
Regardless of the terrifying pics, they're still my favorite characters.